For many in developing countries, access to basic medical procedures and services is considered a luxury. Something as simple and routine as a vaccination is not always easily attainable, which can be the battlefront against many diseases. And far too often, this can mean dire consequences for children, as many congenital heart problems stem from the sickness a mother contracted while she was pregnant. For many children around the world, congenital heart disease is a very real issue; and one they may never get treatment for.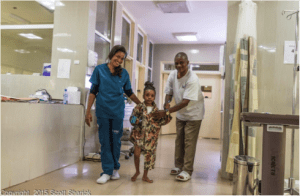 In Nigeria, CardioStart patient Chimanda and her father, know all too well of the pain and struggle that are met when access to the basic medicine that we often take for granted is not available. Born with Congenital Rubella Syndrome, her mother died during child birth after contracting the disease while pregnant with Chimanda. Chimanda now relies solely on her father, not just for comfort and support, but also to be her eyes. As a symptom of her condition, she was also born nearly blind along with a life-threatening congenital heart defect.
It is a sad truth that her life, like so many other children afflicted with this condition, was expected to be a short one. Her father could only watch helplessly as his young daughter would become crippled by a disease that has no cure and continue to get sicker throughout her life. Many resource poor countries simply do not have the means or the ability to care for the majority of sick or disabled, as Chimanda will no doubt be.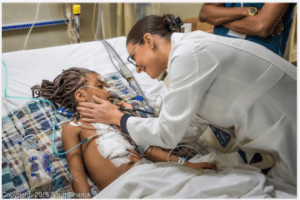 With CardioStart's team of volunteer medical professionals, and the Cardiac Surgery Program, she has received the life-saving surgery she otherwise would not have been able to attain. While her life will still be riddled with complications, knowing we were able to bring the hope and new chance for her life and her father's is the highest honor we could ever hope to achieve.
Chimanda, and her father, who was at her bedside day and night. He would lean forward and touch his forehead to hers to comfort her, so she could feel his presence.