BIG SURGERIES BUT EVEN BIGGER SMILES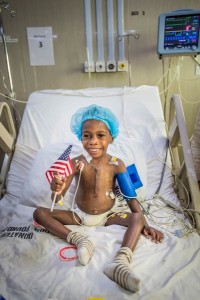 It's almost impossible not to fall for the pediatric patients at the University of Nigeria Teaching Hospital. Olaoluwakitan was one fine example. He was diagnosed with the ventricular septal defect eight days after birth. Olaoluwakitan was three years old at the time that we met. He is a small child for his age, but his demure stature belies his charismatic personality and inner strength. He's inquisitive and receptive to others and his surroundings. He quickly learned how to adapt, to endure then to overcome many challenging days, weeks before, during and after his surgery. Remarkably, he dazzled us with his smiles, his innocence, resilience and yet maturity. He was so attentive in listening to his parents, doctors and nurses to help his recovery and progress. Olaoluwakitan had a presence. Intuitively, he seemed to know how to pose for the camera, in spite of his pain or discomfort that he experienced from time to time in the ICU. This little Mr. Hollywood would melt many hearts with his beguiling smile that was brighter and warmer than the sun.
Individually and collectively, it was the children's indomitable spirit and courage that propelled the team to work with our best ability to optimize the limited resources so that the children can have a better health today and a future within reach tomorrow. We are who we are because of whom we love and are loved. It's evident that love was seen and felt immensely at the UNTH. Let's choose to pay it forward. Donate to our next mission to Nigeria to help others like Olaoluwakitan.