CARDIAC DEVELOPMENT PROGRAM NEPAL MISSION
NOVEMBER 23-DECEMBER 4, 2015
After a stuttering start with the May 2015 mission interrupted by the massive earthquake disaster CardioStart was finally able to start the surgical mission at Kathmandu University Hospital, Dhulikhel, Nepal on its return visit later in the year. This mission was not without its challenges, too. India's political and effective trade blockade limited fuel and supply delivery to Nepal, impacting on transportation and the daily living conditions for most people in the country. A one-day strike also delayed outreach and hospital staff from work. Despite these difficulties the local team was excited to rise to the challenges, learn and proceed with the launching of the permanent adult cardiac surgical program.
EDUCATION
Prior to the mission date, one of the CardioStart anesthesiologists, Dr. Michael Schupp MD, arranged for two Dhulikhel ICU nurses to receive some intense training in the United Kingdom at the University of Leicester Teaching Hospital. Financed by CardioStart, they returned in time for the start of the mission.
Intensive Care: Cardiovascular nursing education began immediately on commencing the clinical program. Two full teaching courses (which included 46 ICU & Ward nurses) were provided to Dhulikhel intensive care nursing staff to ensure all were able to participate. Additionally, bedside support and teaching was provided throughout the two weeks during the 24-hour care provided for surgical case recovery.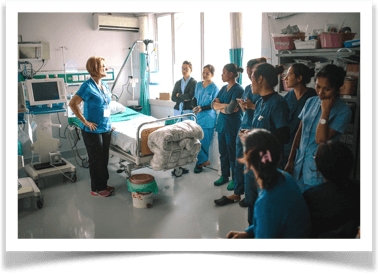 Additionally, a one-day nursing conference was held at Kathmandu University – Dhulikhel Hospital included 130 students and staff. Education included physical assessment, rheumatic fever, heart failure, universal precautions, nurse sensitive indicators, pulmonary hygiene, early mobility and patient teaching.
CARDIOLOGY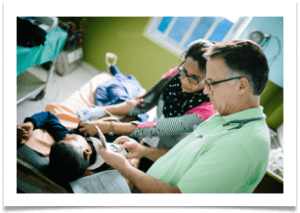 CardioStart's adult and pediatric cardiologists screened and assessed 249 patients for congenital and acquired cardiovascular disease using trans-thoracic 2D echo and physical exams. Trans-esophageal echocardiogram (TEE) technology was also used in the operating theatre. Echocardiography technique and case reviews were provided during the week on a regular basis.
PERFUSION
CardioStart adult and pediatric perfusionists worked closely with the local perfusion specialists in skills and techniques vital to safe cardiopulmonary bypass performance. Following the mission, CardioStart plans to bring the local perfusionists to a center of excellence at a teaching location in the U.S.A. for didactic and clinical training.
OPERATING ROOM
Nursing: International standard of Care policies were implemented in the OR including Pause (Time-Out) to ensure safe care. Scrub and circulating nurses were trained by one of CardioStart's specialist to help develop skills in performing all aspects of cardiac surgical care for a patient entering for surgery. Instrument sets and ICU chest re-open trays were established and the importance of sterilization techniques reviewed and written for consistent standards assurance.
Anesthesia: Anesthesia preparation, line insertion and patient monitoring were firmly established. Equipment organization and needs were identified for future missions were listed, and CardioStart team members will assist in seeking out items that can be donated. Dhulikhel currently has one designated CV anesthesiologist in training.
Cardiac Surgery: This was a ground-breaking mission for Dhulikhel Hospital. The first double valve and Coronary Artery Bypass Graft surgeries ever performed there, took place during this mission. Endoscopic vein harvesting is not yet performed at Dhulikhel but the principles were taught. Case review and approaches to better clinical assessments and documentation correction were a vital part of surgical preparation and education. Two surgeons received primary surgeon role instruction during the cases accomplished. Post-operative recommendations were made and included the suggestion to set up a step-down ward. This will be developed as adequately prepared nursing care evolves. CardioStart team leaders stressed the importance of avoiding clinical complications that might occur after the initial recovery.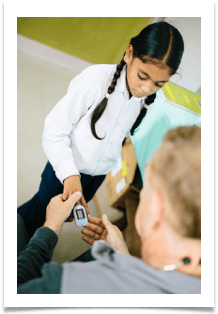 OUTREACH
Outreach members screened 230 teenaged school children in Bahunepati Health Center, a two-hour strenuous drive from Dhulikhel Hospital. Four children were identified with cardiac disorders and referred for further work up.
Outreach Education: Strep throat/Rheumatic fever education was provided via verbal instruction and written information in the Nepalese language.
First aid teaching was carried out with the older children and kits provided courtesy of Mr. Dan Carrella's International Baccalaureate Class of Lecanto High School, Lecanto Florida. The goal of this program was to provide longer-term assistance to the recovery efforts that have been struggling and are ongoing since the two earthquakes. Much of the work in the country required intense physical labor, so accidents have been common.
In instructing the older children and providing first aid kits with reference material to isolated village inhabitants, there is hope to decrease risk of infection and permanent physical damage decreasing.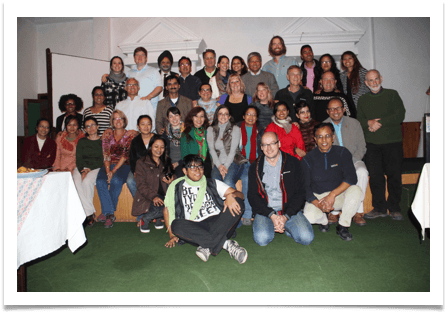 CV Surgeons
Dr. Emily Farkas, (USA)
Dr. Vinicius Nina (Brazil)
Perfusionists
Whitney Behr, CCP (USA)
Peter Allen, RN, CCP (Canada)
Anesthesiologist
Dr. Michael Schupp (UK)
Operating Room Nurse
Linda Lundeen, RN (USA)
Cardiologists
Dr. Rachel Nina – Pediatric (Brazil)
Dr. Tom Hilton – Adult (USA)
Intensive Care Nurses
Rachael Collord, RN (USA)
Rick Burian, RN (USA)
Kimberly Castagno, RN (USA)
Kaelin Schickedanz, RN (USA)
Sarah Barrile, RN (USA)
Echocardiographer
Sara Singh, RDCS (USA)
Biomedical Engineer
Arshad Zaidi, BME (Pakistan)
Research
Arthur Nina (Brazil)
Sylviah Nyamu, MPH (USA)
Lorena Bonilla, RN (Canada)
Educator & ICU Nurse
Heather Rideout, RN (USA)
Outreach
Dr. Richard Harper (USA)
Dan Rideout (USA)
Parker Hilton – Professional Photographer (USA)
Mission Director
Janine Henson, RN (USA)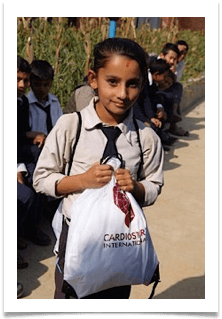 Acknowledgements
The CardioStart team wish to express gratitude for the support of the following:
Edwards Lifesciences, Irvine CA
Amy Lauth Foundation, VA, USA – logistics for donations to Nepal
Thoracic Surgery Foundation for Research and Education (TSFRE) Chicago, IL
Abbott Labs, Point of Care, Minneapolis MN
Medtronic Industries, Minneapolis MN
Dan Carella's International Baccalaureate students, Lecanto High School, Lecanto FL
Salem Health CV unit, Salem OR
Scanlan Instruments Inc., MN, USA.
Electric Brewing Supply Shipping, Marquette MI
Photography courtesy of Mr. Parker Hilton