HUMAN ORGAN TRANSPLANT CENTER, BHAKTAPUR, NEPAL
April 6-14, 2018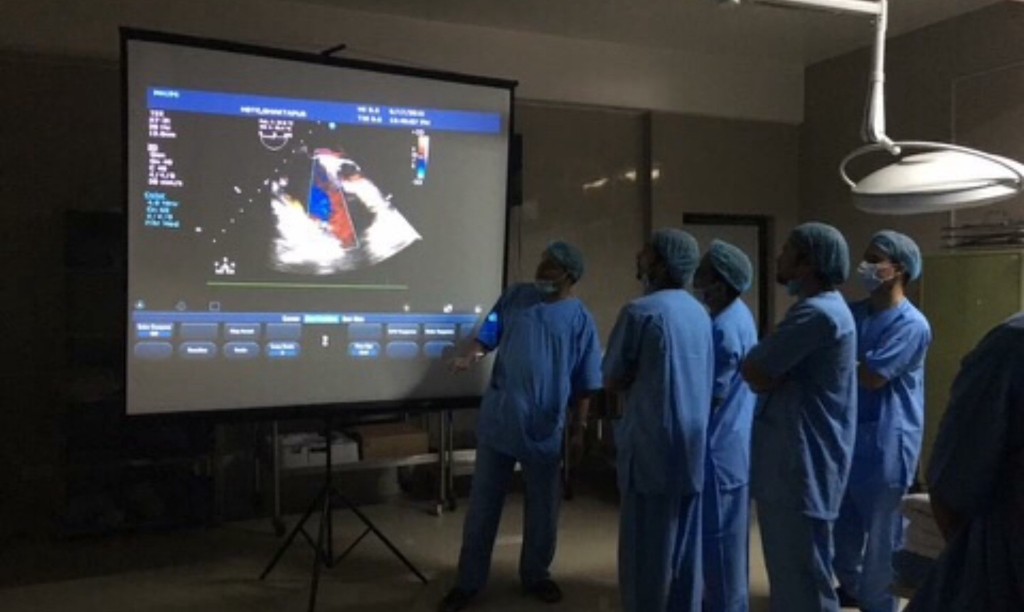 You are cordially invited to participate in CardioStarts' 2018 Mission to Nepal at the Human Organ Transplant Center (HOTC) in the historic city of Bhaktapur. After performing the first adult heart surgery case in 2016, we will return to advance the cardiovascular program and perform rheumatic disease screening & education in satellite villages of the Kathmandu valley.  HOTC already performs other solid organ transplants and envisions the addition of heart transplants in the future once the cardiovascular program is satisfactorily established.  This facility is geared to collaboratively share staff and resources with CardioStarts' original and ongoing partner hospital at Kathmandu University in Dhulikhel.
Nepal
Ever since Nepal first opened its borders to outsiders in the 1950s, this tiny mountain nation has had an irresistible mystical allure for travelers. Today, legions of trekkers are drawn to the Himalaya's most iconic and accessible hiking, some of the world's best, with rugged trails to Everest, the Annapurna's and beyond. Nowhere else can you trek for days or even weeks in incredible mountain scenery, secure in the knowledge that a hot meal, cozy lodge and warm slice of apple pie await you at the end of the day. Nepal is nirvana for mountain lovers.
Some travelers are drawn to Nepal by the adrenaline rush of rafting down a roaring Nepali river or bungee jumping into a bottomless Himalayan gorge. Canyoning, climbing, kayaking, paragliding and mountain biking all offer a rush against the backdrop of some of the world's most dramatic landscapes.
Read more: http://www.lonelyplanet.com/nepal#ixzz3CwFdF72c
Mission Goals
To further develop this young cardiovascular program, we will be offering education and skill transfer in all aspects of cardiac care, including preoperative assessment, surgical treatment, and perioperative management.
CardioStart has recently established an "echo school" program at the hospital with a regular rotation of visiting volunteer echo technicians, training selected local candidates in a 1-year curriculum.  Establishing this important role, which doesn't currently exist anywhere in the country, will further the goal of screening and identification of heart disease in Nepal.
The assessment and diagnosis of Rheumatic heart disease, as well as education regarding ways to prevent it, will be conducted both at the hospital and in outreach locations.  The cardiology team will arrive April 1-5 to screen potential surgical patients; operations will convene April 8-13.  Team members will depart on April 14.
Team Composition
Needed:
2 CV Surgeons (Filled)
1 Adult Anesthesiologist
2 Adult Cardiologists (1 needed)
1 Perfusionist
1 Scrub Nurse/Tech
1 Research Assistant
4 ICU RN's  (1 ICU Educator helpful)
1 Biomedical Engineer
Outreach: 2 primary care practitioners
1 nurse
1 assistant
Mission Logistics
Airfare: Airfare costs and VISA will be self-funded by each volunteer.  When instructed to do so you may book your own flight or consult cardiostart@raptimusa.com.  WE RECOMMEND THAT YOU DO NOT BOOK FLIGHTS UNTIL YOU ARE CONFIRMED ON THE TEAM.  You will receive a CONFIRMATION letter when all required documents have been submitted and approved.
Lodging: Will be provided. CardioStart seeks certain minimum standards (2-3 star) to ensure volunteer safety and comfort as well as keeping the team together.  Volunteers should expect same-sex room sharing in order to help reduce the costs.
Meals: During the day, meals will be freely provided at the hospital.   Evening meals/snacks, etc., will be at your own expense and are available at the hotel or other area establishments.   Those working outreach may need to fund their meals when they are out on excursions.
Travel/touring:  For patient safety reasons, we do need the medical personnel to be in the hospital until the Friday of the second week. Upon completion of the mission, you may wish to take a few days vacation. You can visit some of the many natural wonders of Nepal, or book yourself additional nights before heading back. However, we cannot assist with the tourism arrangements.  Staying in Bhaktapur is a tourist site itself.  You will need to pay $10 entry at the beginning of your stay.  You will be in a great place to tour on off hours during the mission.
How to Apply
If you wish to participate and become a team member, do apply immediately using our Volunteer Interest Form.
Janine Henson, RN, BSN, CCRN  VP/ED CardioStart
Janine.henson@cardiostart.org