Macapá, Brazil Mission April 2016
A Volunteer's Perspective by Rebecca Drake
The Macapá, Brazil Mission hosted at the Hospital São Camilo was my second volunteer mission with the CardioStart International team. Heading into this mission, I was asked to not only help in the ICU, but to be the Educational Director as well. I was motivated to work diligently to help establish a functioning intensive care unit that would be sustainable for the local team, however I did anticipate challenges with the language barrier and educating at the bedside. The first two days spent with the local team in their facility were the most overwhelming, however most productive. We got so much accomplished! I always approach these missions with the mindset that we are starting from the ground up, ensuring both the volunteers and the local team members are starting from the same page and have mutual goals. I remind myself to approach these missions with an open mindset and not to assume we are of greater knowledge. When I feel myself starting to assume control I remind myself to take a step back and remember that our purpose is to empower the local team, and at the end of the day our mutual goal is to leave them with full responsibility for their cardiac program.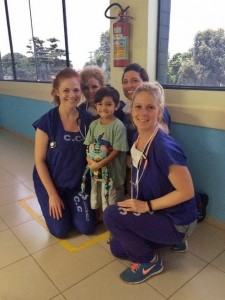 The local medical team at the Sao Camilo hospital was absolutely outstanding and extremely enthusiastic about organizing educational lectures for all medical providers. The first lecture I provided at the Sao Camilo hospital I had about 80 professionals and students from the hospital sitting in the audience eager to learn. Although we had our challenges with translating, this didn't prevent members of the audience from asking questions and truly engaging in the lecture. Even though I was occasionally speaking to topics outside my expertise, I felt highly respected by the students and medical professionals and admired their dedication to better their practice.
I think the spark that encourages me to want to continue to volunteer with CardioStart is the feeling I get once I return home to Canada. During the mission, we are so busy dealing with multiple different challenges that I forget to take a step back and appreciate how amazing it is to have this opportunity to be a part of such an incredible contribution. When I return home to my own family and work environment I am overwhelmed with appreciation for how lucky I am. When I look at pictures and reflect on memories from the mission, I am so proud to be fortunate enough to volunteer with such passionate medical professionals from around the world. Once I return to normal life and work, it only takes a few weeks before I am craving to leave again on a new adventure. I consider myself very lucky to be able to incorporate volunteer work into my practice, and it truly makes me a better nurse and individual. At the end of the day, the kids I meet along the day make all the challenges worth it. I am grateful for the members of CardioStart International for selecting me to be a part of their organization!