Providing aid to the roots of the community
Outreach supports the efforts of the cardiology and cardiac surgical teams by nurturing the development in the community and providing education. This activity usually includes health screenings, medical evaluations and treatment of minor problems to the underserved population living in remote areas.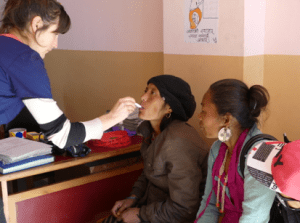 Three other important benefits are gained from this initiative:
Earlier screening of children with rheumatic heart disease
Development of simple clinic services which help bridge the gap between remote clinic work and the tertiary care facility we are assisting
Education on best health practices
During these screenings, we are also able to identify potential cases for heart surgery. Many of these patients come from the poorest village settings and have no previous knowledge of their heart condition. Previously undiagnosed and untreated Rheumatic Fever arising from Streptococcal throat infections can lead to serious cardiovascular illness.
The outreach team offers several different types of medical/health education programs which are tailored to the needs of the community in which they serve.
Medical Clinics:
Hypertension/Diabetes screening
Primary Care clinics
Well pediatric physical exams
Cardiac screenings
Health Education:
CPR classes
Basic first aid
Dental/Oral & basic hygiene
Sexual transmitted disease prevention
Strep throat/Rheumatic fever education
Furthermore, CardioStart also provides assistance and support to local orphanages free of charge, with the primary focus being health and wellness programs. Specific projects also include, painting, plumbing, musical education, outings, clothing purchase and re-wiring and repair of domestic equipment, building kitchens and hygienic conditions for day care enters. Often, in very austere settings, our volunteers gain some of the richest experience of their lives.