Mission Report: Bicol, Philippines, Feb. 2–13, 2020
In 2019, Dr. Mariano Brizzio, (Adult cardiac surgeon with CardioStart International) was invited to lead a mission to Legazpi, Philippines (Bicol Region) Bicol Medical Center to treat adults in need of heart care by the New Jersey Rotary District 7490/Gift of Life.  Dr. Brizzio took on the challenge and built a team from Valley Hospital and Healthcare System, Ridgewood New Jersey.  Additional team members were invited and vetted by CardioStart administration.
Roughly, only 10% of the Philippine population have insurance to have cardiac procedures.  The few government supported hospitals that assist these patients have massive waiting lists and those patients must pay.  This mission was focused on the neediest.  Gift of Life has been bringing patients to Valley Hospital in NJ for the last 10 years but wanted to make a bigger impact at once to address the huge waiting list.  They were able to do that successfully.
The mission was a combined program addressing both adult cardiac surgery and interventional cardiology.  The catheterization lab was led by Dr. Tom Cocke.  Twenty-one interventional cardiac procedures took place during the course of the two weeks. (11 PCI, 4 ASD closures, 3 PDA, 3 PCMV)   Sixteen heart surgeries were performed by Dr. Brizzio and team.  A grand total of 37 procedures in 9 days.  All cases were successful during the mission however, the team was sad to learn one patient died of complications from blood thinners weeks later.
CardioStart professionals interacted side-by-side with Bicol Regional Teaching and Training Hospital staff to transfer best practices over the course of the mission.  Hours of teaching took place building a stronger program for patients who will come after this mission.  A full complement of 16 health care professionals cared for these patients and were supported by 5 Rotary/Gift of Life volunteers who supported the team and through the two weeks.  The team was entertained to a fun weekend in between the two weeks as a treat by the rotary seeing a bit of the countryside and enjoying each other outside of the hospital.  The team was thankful for the break and a bit of rest.
Echo Patient List/Catheterization Lab Procedures/Surgical Procedures
CardioStart Philippines Mission, Legazpi City, Feb 2-13, 2020
LAST

FIRST

DOB

DIAGNOSIS

ECHO

INTERVENTION

D

P

48 years

RHD, MVP with severe MR

TTE pre-op

TTE post-op

MVR repair, P2 artery closure-edward band #30

A

N

06/01/1980

RHD, severe AI,

Afib

TTE pre-op

AVR St. Jude 23 mm, Annuloplasty ring 27 mm

M

P

05/25/1998

PDA

TTE post-proc

Amplatzer closure

V

U

02/27/1998

ASD (too large for amplatzer closure)

ICE in Cath lab

TTE post-surg

Surgical ASD repair pericardial patch

B

L

11/16/1997

RHD, MS

TTE pre-op

TTE post-op

MVR Edwards #25, Magna? LAAL clot

S

S

12/16/1986

RHD, MS

TEE pre-proc

TTE post-proc

PTMC (balloon valvuloplasty)

O

C

6/16/2000

RHD, severe AI

TTE pre-op

AVR Medtronic Mosaic Aortic Bio. 21 mm

A

O

7/27/1979

RHD, MVP with severe MR and bicuspid AV

Afib

TTE with bubble study pre-op

MV repair : P3 plication and annuloplasty band :Simulus Medtronic #33

D

M

8/24/1982

RHD, MS, severe TR

CHB

TTE pre-op

TTE with bubble study post-op (patient had post-op CVA)

MV Replacement

Medtronic Mosaic Bio. #27/TVA

T

J

PDA

TTE post-proc

Amplatzer closure

J

A

6/23/1984

RHD, MS

TTE pre-proc

TTE during proc

TTE post proc

PTMC (balloon valvuloplasty)

H

I

49 years

RHD, MS/MR

TTE pre-op

TTE post-op

MVR St. Jude Mech. #25, LAA thrombectomy, LAA resection

C

B

12/3/1994

ASD

ICE in cath lab

TTE post op

ASD repair: Autologous Pericardial patch

M

X

7/4/1998

RHD, severe MR

TTE pre-op

TTE post-op

MV replacement St. Jude Mechanical  # 29, TV repair Tri-Ad ring #26

J

R

RHD, MS

TTE pre-proc

TTE during proc

TTE post-proc

PTMC (balloon valvuloplasty)

L

F

9/16/1984

RHD, MVP, Cor Triatriatum

TTE pre-op

MVR St. Jude Mechanical #27

B

F

8/22/1985

RHD: MS

TTE pre-op

MVR St Jude mechanical #25

LA thrombectomy LAA resection

A

H

1/8/1992

RHD, MS, severe AI, TV coaptation failure, some PTH

TTE pre-op

MVR mech. St. Jude #31, AVR, TR repair TM-AD #34, LA Thrombectomy

P

B

2/10/1964

RHD, MS, MVP, right ventricular failure

TTE

No intervention

A

J

8/5/1990

RHD, MS

TTE pre-op

Case referred to U.S.A. for surgery

O

P

5/31/1989

VSD, severe AI

TTE pre-op

AVR mech. St. Jude #23, VSD repair with pericardial patch Direct-transaortic

B

R

3/24/1995

ASD

ICE during proc

Amplatzer closure

B

R

ASD

ICE during proc

Amplazter closure

N

E

4/6/1997

PDA

TTE pre proc

TTE post proc

Amplatzer closure

G

D

Age 22

RHD, MS

MV replacement ST. Jude 29 mm/TV repair 28mm

M

L

Age 40

RHD

Afib

MV replacement Mosaic MDT25 Redo sternotomy

A

N

Age 39

RHD, Severe AI & MR

St. Jude Mechanical #23 23mm,  Simulus Medtronic annuloplasty ring 27 mm
*Last initials in red bold=Surgical Procedure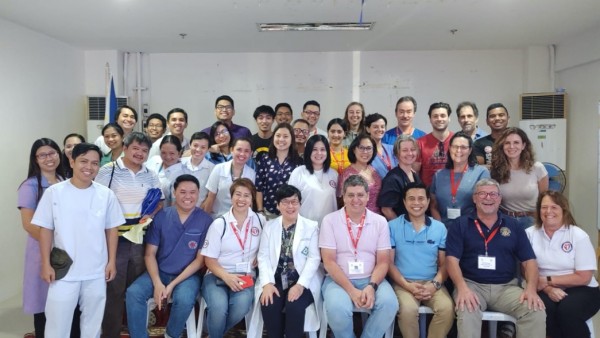 | | | |
| --- | --- | --- |
| NAME | SPECIALTY | HOME |
| Tom Cocke, MD | Interventional Cardiologist       | NJ |
| Mariano Brizzio, MD                 | Cardiac Surgeon | NJ |
| Jeff Levine, MD | Anesthesiologist | NY |
| Linda Romeo, APRN | Patient Care Coordinator | NJ |
| Elaine Kletsman, PA | PA, First Assist | NJ |
| Dan Cannata | Scrub Tech | NJ |
| Cris Biloy, RN | ICU Nurse | Philippines |
| Lisa LaRiccia, RN | ICU Nurse | FL |
| Minerva Manalili, RN | ICU Nurse | NJ |
| Roseni Mondia-Kwaky, RN | ICU Nurse | NJ |
| Lee Malcolm, RN | ICU Nurse | Canada |
| Nate Manuel, RN | ICU Nurse | NJ |
| Christine Lannon | Research Database | TX |
| Ky Palisoc | Research Database | NJ |
| Hermogenes Dela Cruz Lopez, CCP | Perfusionist | MD |
| Kristen Eckert, Rad Tech | Cath Lab Tech | NJ |
| Jeanne Juneau, RDCS | Cardiac Sonographer | VA |
| Bob Klingen | Chairman, Gift of Life | NJ |
| Jennifer Padolina | Coordinator, Gift of Life | NJ |
| Sophie Stone | Photographer, Gift of Life | NJ |
| Charlene Klingen | Volunteer, Gift of Life | NJ |
Acknowledgements
Legazpi West Rotary Club:

 

Team transportation needs, end of mission entertainment, dinner, music and tour
This Mission is 100 % funded by Gift of Life Foundation , Paramus Rotary Club district 7490
Valley Hospital and Health care system, Ridgewood NJ, supplies and support of professionals to participate.
Medtronic
Abbott
Edwards Lifesciences Foundation
Toray

 

( PTMC balloons )
LSI. Solutions (COR- KNOT)