CardioStart Volunteers: Healing Hearts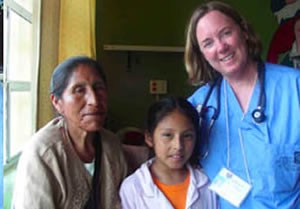 CardioStart exists because of the passion and commitment of its volunteers. With disparity in access to cardiac care in developing countries, CardioStart volunteers are compelled to make an impact on the lives of adult and pediatric patients with heart disease. These dedicated volunteers stand side-by-side, teaching doctors, nurses and medical staff advanced cardiac surgical techniques and critical care protocols for patients in impoverished countries.
During two-week missions, CardioStart volunteers come together from various states in the US, Canada and other westernized countries. Most having never met each other, the 30-40 person teams form a collaborative bond, united to help those with limited access to even basic medical care.
Transformative. That's how many volunteers describe their experience on a CardioStart mission. See volunteer Testimonials.  Gone are hospital politics, patient insurance coverage issues and limited time availability to provide real patient care. During CardioStart missions, it is not only the patients' and their families' lives that are changed forever – the volunteers also experience an almost indescribable transformation that leaves a lasting impact.
CardioStart's surgical missions primarily need medical professionals experienced in cardiac care. However, there are several roles for non-medical volunteers that involve database entry and community outreach.
Mission team needs:
Cardiac surgeons
Pediatric cardiac surgeons
Anesthesiologists (both adult and pediatric)
Perfusionists (both adult and pediatric experienced)
Physician assistants
Cardiologists (electrophisyologist or pacemaker implantation experience)
Pediatric cardiologists
CV-ICU nurses (adult and pediatric)
Biomed engineers
Respiratory therapists
OR RN/scrub techs
Patient database staff
Outreach coordinator
Medical/non-medical volunteers for mission outreach
CEUs & CMEs
Medical educational work overseas can be claimed as "Continuing Medical Education" (CME) time, category 2 AMA credits. Nurses can receive AACN CEU's mission and education work.  CardioStart will provide up to 20 credits per volunteer.
If you are interested in volunteer opportunities with CardioStart, please complete our Volunteer Interest Form.