In Loving Memory of CardioStart Nurse Volunteer Mike Fullerton, RN, CCRN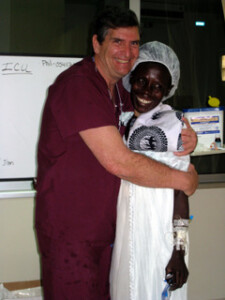 Mike Fullerton passed peacefully this week, after suffering from terminal cancer. He was one of the finest nurses to volunteer with CardioStart International. He was very popular in his work at McKenzie Willamette Hospital, in Springfield, Oregon, (later, at Salem Hospital) and admired by his co-workers as an insightful, sharp, and thoroughly pleasant nurse. His knowledgebase was encyclopedic, and he was always a kindly advisor on facts and clinical management to colleagues.  Overseas on the missions, he graced us with his enthusiasm and consummate professionalism in Peru, Myanmar, and Ghana. Patients, staff, and volunteers loved him. In this picture, he is embracing a Ghanaian patient who underwent heart valve surgery and who had not walked more than ten yards in six years. Her astonishment at walking more than 100 yards inside the hospital only five days after surgery was wonderful to witness. His warmth and affectionate care to patients was evident throughout his career. Mikes support of the charity was a ripple with great impact. In Eugene, he found us our first local warehouse which yielded over 6 containers to be sent to the mission locations.
Mike is survived by his wonderful wife, Kay, a teacher, and his two daughters whom he spoke of with great love and funny stories.
Donations can be made in the memory of Mike here.