Bringing better heart health around the globe begins by raising awareness!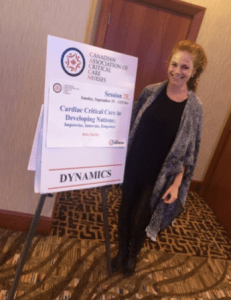 November, 2016 our very own volunteer Kate Earley spoke at the Canadian Association of Critical Care Nurses conference in Charolettetown, Prince Edward Island about her mission work with CardioStart International.
Though a busy nurse as a Critical Care RN at the London Health Sciences Centre, Kate has become a regular volunteer for CardioStart's fight against heart disease. She has lent us her skills on several missions over the past year, helping to lead nursing care in several missions including Nigeria, Brazil, Peru, Ghana and the Dominican Republic. Kate also will be joining us to Ecuador in February 2017.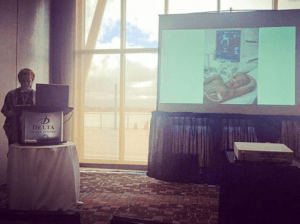 The title of the presentation was "Cardiac Critical Care in Developing Nations: Improvise, Innovate, Empower" where Kate described at length her experiences on attending these lifesaving missions with CardioStart International.  She touches on what it's like to volunteer for humanitarian organizations and describes her adventures in trying to teach nursing care in areas so void of the regular hospital resources we have grown accustomed to. Though missions always have challenges, Kate also explains that these missions also have the most incredible benefits, including saving lives, transferring knowledge, and touching the lives of local staff.
We are so grateful for our volunteers and all the work you do, and we are so thankful for those who go out of their way to help share our fight for heart health. Great job Kate!