On October 6, 2013, CardioStart International performed their 11th Cardiac surgery mission to Arequipa Peru under the direction of Dr. Mariano Brizzio.  A team of 28 volunteers hailing from 5 countries joined together at Honorio Delgado Hospital to give the gift of life to 10 adults and 2 children.  Many of the cases were multiple cardiac surgery interventions yet all did well and were discharged within a week of the team leaving the country. The team struggled with a lack of disposables, which were held in customs with the 40-foot container shipped from CardioStarts' Tampa warehouse.  This seasoned crew of volunteers made due in difficult circumstances.  These 12 patients and their families were extremely grateful for the opportunity for surgical repair/replacement of rheumatic diseased heart valves and congenital heart defects.
SURGICAL CASES
| | | | |
| --- | --- | --- | --- |
| Name | Age | Procedure | Outcome |
| Female | 47 years | ASD closure | Satisfactory |
| Female | 53 years | MVR/AVR/Tricuspid repair/Septal myectome | Satisfactory |
| Female | 27 years | PDA closure | Satisfactory |
| Female | 64 years | Mitral Valve replacement | Satisfactory |
| Female | 31 years | PDA closure | Satisfactory |
| Male | 56 years | Mitral & Tricuspid valve replacements | Satisfactory |
| Male | 62 years | Aortic Valve replacement | Satisfactory |
| Male | 15 years | VSD closure | Satisfactory |
| Female | 45 years | | Satisfactory |
| Male | 42 years | Aortic and Mitral valve replacement | Satisfactory |
| Female | 47 years | PDA closure | Satisfactory |
| Male | 18 years | PDA closure | Satisfactory |
EDUCATION
CardioStart believes in its' mission of education and demonstrates this on every mission in every area assisted.  Education sessions included:  hands-on Basic Life Support/CPR, Alarm Fatigue in Critical Care, Arterial Blood Gas Analysis and Reading Chest X-rays. Formal lectures were again provided at the School of Nursing in Arequipa.
OUTREACH
Not all of the work goes on in the hospital.  CardioStarts' outreach team takes their mission to the streets and continues the mission of heart care for the community.  Blood pressure and diabetes screening took place in the city center seeing 302 local citizens.  Of that 26 were diagnosed with diabetes and 37 with severe hypertension.  Patients were provided education in their disease process with culturally competent materials in their home language.  Diabetics were started on medications management supplied by Sanoi-Adventis.  All patients were referred to their local physician by the assisting cardiologist thus expediting appropriate care.   Public health education for disease prevention included Rheumatic fever and strep throat, hypertension and diabetes. This team also assisted the APROBIF day care center, which cares for the poorest of the poor children in Arequipa.  More than 120 children spend time in this facility.  To supplement their nutrition 7,000 vitamins were distributed to the parents for their children's care.  The medical practitioners in the outreach team performed primary care to 207 children and 83 adults (parents and caregivers of the children).  Many patients were diagnosed with disease processes and referred for care.  Out local physician again worked with social work to ensure direct connection to care systems.  Each child received a toothbrush and toothpaste.  Tooth brushing demonstrations were provided and it was reinforced that healthy teeth help a healthy heart.  The adults received condoms and Spanish translated information on STD recognition and prevention.  The women also received information on performing self-breast exams.  Preventative care in the general public is rare in Peru but well received when available. The outreach team continued its campaign to prevent Rheumatic Heart Disease by distributing cards in Spanish recognizing the signs and symptoms of strep throat and Rheumatic fever and when to see the doctor.  It is our hope that early treatment of strep throat will decrease the number of patients, especially young ones who need valve replacements because of this disease. Outreach also spent two days supporting a local orphanage as it has in the past.  Three bedrooms were painted.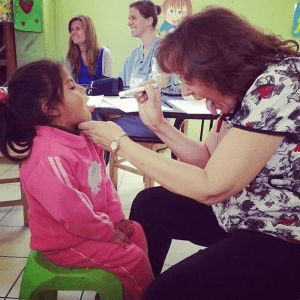 Supplies provided by the outreach budget.  Wall decals added a personal touch to the children's rooms.  A large dry erase board was purchased for the children to do their homework.  This orphanage houses 35 children who were evaluated by the medical team. Additionally, a local school called Institucian Educativa received assistance and physical exams of their 105 children.  Three children were identified as having potentially significant cardiac murmurs and were referred to cardiology for further evaluation.  CardioStart cardiologists provided free echocardiograms to these children.
2013 Team Members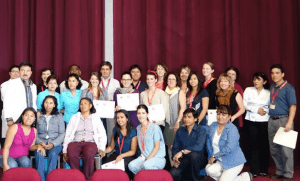 (The two ladies in the front row are patients)
| | |
| --- | --- |
| Surgeons: | Anesthesiologists: |
| Mariano Brizzio (NJ, USA) | Jeffery Levine (NY, USA) |
| Alejandro Crespo de Hubsch (Spain) | |
| | |
| | |
| Physician Assistants: | Perfusionists: |
| Elaine Kletsman (NJ, USA) | Pablo Zubiate (CA, USA) |
| Sheena Bhatt (NY, USA) | Carmel Grima (Malta) |
| | |
| Cardiologists: | Respiratory Therapist: |
| Dave Mclaughlin (VA, USA) | Dora Cardillo (MT, USA) |
| Verran Subramaniam  (UK) | |
| | |
| Echo Tech: | Cardiac Intensive Care/OR Nurses: |
| Margherita Scott (NJ, USA) | Jodi Gunther (IL, USA) Education Director |
| | Janine Henson (MN, USA) Mission Coordinator |
| Database Collectors: | Candy Ruitenberg (NJ, USA) |
| Madison Ables (OR, USA) | Edith Jonkman (Saudi Arabia) |
| Mary Kaye Duff (NJ, USA) | Kimberly Zajdel (NJ, USA) |
| | Eileen Mirasol (NJ, USA) |
| | Matthew Plourde (WA, USA) |
| | Stephanie Abad (CA, USA) |
| | Lindsey Lewis (CA, USA) |
| | Abigail Osdana (NJ, USA |
Acknowledgements: A number of individuals and corporations made generous in-kind and financial donations. CardioStart gratefully acknowledges the specified support of the following:
Abbott Laboratories, Inc., (NJ, USA) – loan of I-stat blood gas analyzer and cartridges.
Amy Lauth Foundation – support for shipping container and hand-carried packages.
Edward Lifesciences – FloTrak cardiac output monitoring and financial support.
Paramus NJ Rotary Club (financial support)
Valley Hospital Pharmacy Department, (NJ, USA) – medications
Valley Hospital Foundation, NJ, USA (material and financial support)
Childrens' Lifeline Foundation (financial support)
Carole Presnik, MD (financial support for outreach)
All Children's Hospital (FL, USA) in-kind support
Tom Hilton, MD fundraising support for echocardiogram machine.
 CorMatrix Cardiovascular Incorporated material support.
Sanoi-Adventis South America for tents, tables, chairs and medications for outreach.
St. Jude Medical, in-kind donations.