Announcement of Cardiac Surgical Mission
 

at the University of Nigeria Teaching Hospital

 
Enugu, Nigeria • October 8th-15th, 2022
CardioStart International invites volunteers experienced in Adult Cardiac Surgery and intensive care to participate in this important and exciting program-building effort at the University of Nigeria Teaching Hospital (UNTH) in Enugu, Nigeria.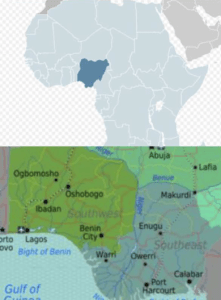 The Federal Republic of Nigeria comprises 36 states and its capital is Abuja. The country is located in West Africa and shares land borders with the Republic of Benin in the west, Chad and Cameroon in the east, and Niger in the north. Its coast in the south lies along the Atlantic Ocean, and it is the most populous country in Africa with nearly 200 million citizens.  The nation is divided between 500 ethnic groups, in which Christianity and Muslim are the most popular religions. Despite being an important economy, healthcare development has been severely limited.  
Enugu State, in the southeastern region, is far from the occasional negative media attention directed at the northern part of the country.  The word "Enugu" (from Enu Ugwa) means "the top of the hill" and designates the oldest urban area in the region.  
The city owes its geopolitical significance to the discovery of coal in 1909 by a team of British geologists.  This brought about the emergence of a permanent cosmopolitan settlement, which influenced the construction of a railway line to link the Enugu coal field with the seaport in Port Harcourt for export of the mineral. 
Enugu is also located within an hour's drive from Onitsha, one of the biggest commercial cities in Africa.  English is widely spoken in Enugu, and the climate is temperate with an average temperature in  October around 77 degrees Fahrenheit.
Status of Healthcare in Nigeria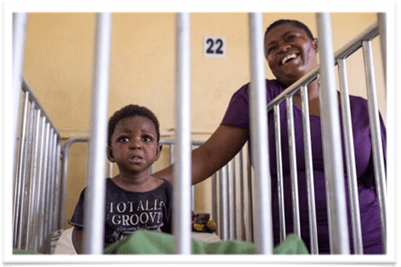 The Nigerian Center for Disease Control estimates that poverty and pollution have reduced the national life expectancy to 55 years old, one of the lowest in West Africa.  While health officials dispute the number, none dispute the urgency of improving health care in this  region.  
One problem exists in Nigeria with which no one disagrees:  When people here die young, they usually die from diseases that could have been prevented or treated.  Westernization of cities like Enugu has led to increasing problems with hypertension, smoking, obesity & diabetes with no correspondent education in preventive cardiovascular care.   Rheumatic heart disease remains a formidable problem with aggressive valvular heart disease and heart failure commonly developing by the late teenage years and early adulthood. 
The University of Nigeria Teaching Hospital (UNTH) is among the top five teaching hospitals in Nigeria, with the statutory mandate of research, teaching, and specialist healthcare delivery.  Although the Minister of Health has designated UNTH as the National Centre of Excellence for Cardiothoracic diseases, Cardiac Surgery has paused during periods of administrative and clinical restructuring since 2013. CardioStart International, along with other NGOs such as VOOM Foundation and Save a Heart Nigeria, have collaborated for multiple previous mission efforts pre-pandemic; we are eager to re-establish our support of this important program now and for the future. 
This represents an excellent opportunity for CardioStart clinicians to make a meaningful difference offering real-time education,  technique demonstration, best practice & protocol implementation to allow UNTH to continue moving toward the ultimate goal of a self-sustaining center. It also affords those of us in a position to effect change an opportunity to greatly help those less fortunate.
Team Composition & Volunteer Concerns
The 2022 team will include the  following positions:
1 Surgeon

(filled)

1 Perfusionist

(filled)

1 CV Anesthesiologist

(filled)

1 OR Scrub RN

(filled)

 

             

1 Cardiologist
1 Echo sonographer

 

4 CV ICU RNs
1 Biomedical Engineer

(filled)

1 Database Manager/Coordinator
Volunteer safety is a very high priority for CardioStart International.  Multiple missions completing over 150 surgeries since 2013 have been successfully completed without a single safety issue, however a dedicated team of Nigerian security staff will be assigned to the mission and accompany our team members each day and evening to eliminate any concerns volunteers may have. 
Travel Logistics
International airfare will be self-funded by each volunteer, but a $1000 stipend to offset that cost may be available to those who qualify.  Flights should be arranged for travel to and from Lagos (LOS, Murtala Muhammed International Airport).  The team will then travel together on a short domestic flight to Enugu.  Please do not purchase a ticket until you are accepted on the team by written confirmation.  
Lodging will be provided in a safe and high-quality local hotel.  Volunteers should expect that they may be asked to agree to same-sex room sharing to help reduce cost.  During the day, meals will be available and provided by the hospital.   Evening meals/snacks, etc. are available in the hotel or local restaurants, at volunteers' own expense. They are generally of a high standard and inexpensive.
Application for a Nigerian Visa is a relatively long and moderately complex process, so please express your interest early to allow initiation of the process with our assistance. 
Touring
Lagos, Nigeria is considered by many to be "the Big Apple of Africa" and will be our international port of entry and departure.
Nigeria has several very beautiful national parks rich in diverse flora and fauna, and an enormous variety of prized jungle animals.  Several secure and fully guided tour opportunities are available through Nigerian Tourism (www.tourism.gov.ng). Highlights include the Yankari Game Reserve and the Obudu Mountain Ranch. Touring attractions and arrangements locally and for other points in Africa can be pursued from Lagos but must be undertaken before or after the mission.  
Look beyond the politics and struggles of Africa. Come and help us do some  amazing work for a people very deserving of better cardiac healthcare!
HOW TO APPLY
Please visit our website at https://cardiostart.org/volunteer-interest-form, complete the Volunteer Interest Form and upload your CV/resume. Upon being accepted on the team, you will receive additional correspondence from CardioStart via email with information on how to proceed in submitting necessary paperwork and documentation.