SAN PEDRO SULA, HONDURAS
MISSION  REPORT
November 25th March – April 8, 2017

Following the previous invitation and support of this Cleveland and Honduras-based charity, Helping Hands Honduras (HHH), CardioStart undertook the second pediatric heart surgery development program at Hospital Mario C. Rivas in San Pedro Sula,
Honduras in March 2017.
Children and Young Adults in Need
The need is great and there remains a large number of impoverished children and young adults on a waiting list in need of surgical heart care in Honduras. Without
private funds these patients are usually unable to have surgical repair. Many have gone years into adulthood without surgery, which would have been completed in the infancy period in most countries with advanced healthcare systems in place.
Starting the Program
The Hospital had one trained surgeon prepared to support the program but he was let go due to insufficient funds available for his salary line. There remains a need for developing surgery, anesthesia, perfusion and nursing education in cardiac surgery in order to build a self-sustaining program.
Perfusion
The Director of the hospital was advised by the visiting Minister of Health in November 2016 that two clinical training scholarships will be provided in a Spanish-speaking advanced cardiac surgery center to help bring this new specialty to the hospital.  Disappointingly, with the change of government, this was not implemented, and fresh negotiations are having to be made. The CardioStart perfusionists therefore had no local assistance in this area of clinical care.
Anesthesia
The Chief anesthesiologist, Dra. Geraldina Gross and colleagues assisted in the intra-operative management of several cases during the surgical procedures proctored by CardioStart's professor of anesthesia throughout.
Nursing
CardioStart nurses worked beside the local nursing team to provide pediatric post-operative surgical care.  Lecture within the ICU and bedside teaching were the hallmarks of nursing training during the two-week mission.  Lectures included Advanced Life Support in the pediatric population, rhythm interpretation and pediatric heart surgery recovery management.
Cardiology
The new catheterization lab, inaugurated during the November 2016 mission with CardioStart interventional cardiologist Dr. Juan Pablo Sandoval Jones, was unable to be used clinically during that mission – largely because no angio-catheter equipment could be made available.
Instead, CardioStart and local cardiologists planned two 'dress-rehearsals', testing positioning, equipment and staffing positions and arrangements.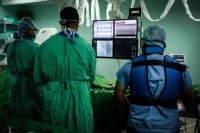 On this mission the lab was ready for procedures, allowing both advanced left and right heart angiograms to be performed safely.
In addition, over 50 children and adults with congenital heart disease from different regions of Honduras were evaluated by the CardioStart team in the echocardiogram lab; this included those who underwent surgery or angiogram, as well as those who were placed on a treatment and/or surveillance program for intervention during future missions.
Education
Throughout the mission an educational program was carried out by the CardioStart team which consisted on bedside teaching and lectures on relevant topics such as: preoperative and postoperative care, arrhythmias, CPR, blood gas analysis and perfusion management.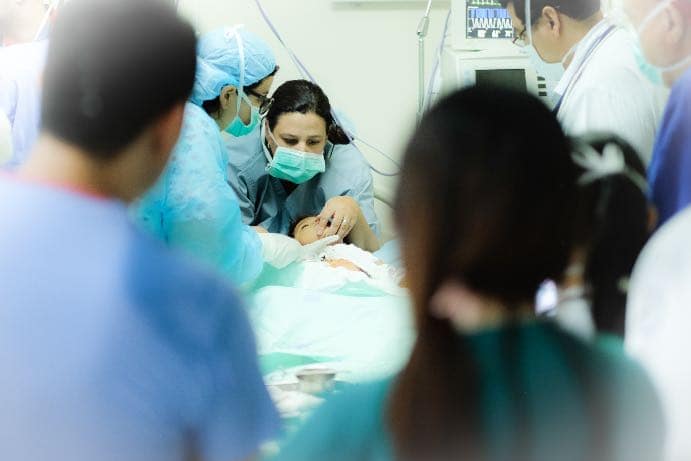 A CardioStart anesthesiologist works
with other members of the anesthesia
team to prepare a patient for surgery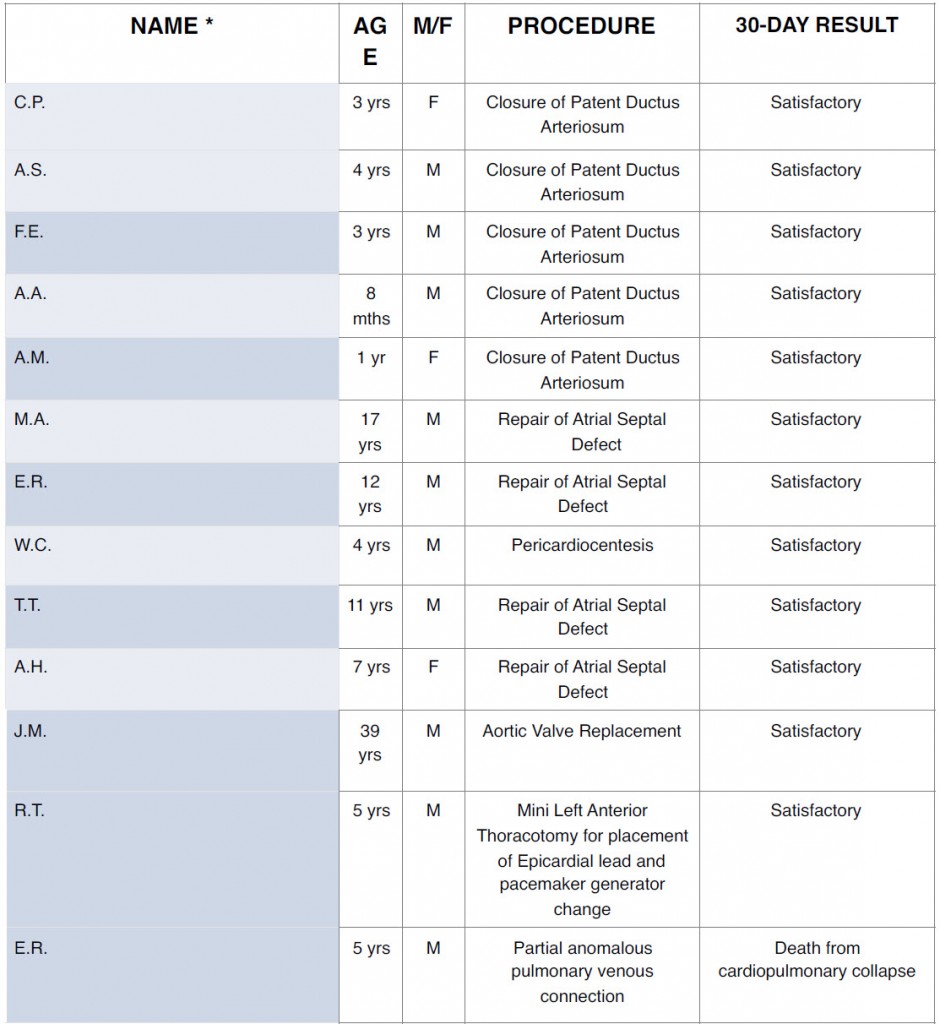 CARDIOSTART  & HHH COLLABORATING TEAM
BRAZIL
Karlene Lamberg MD Anesthesiologist
Rachel Nina, MD pediatric cardiologist
CANADA
Lee Malcolm RN ICU
GERMANY
Naim Kadri BMT Perfusionist
HONDURAS
Fernando Morales MD translation and ICU management assistance
UNITED STATES
Aldrin Alpuerto RN, Nurse and Medical Student
Alison Curtis, Scientist, & photographic archiving.
Tom DiSessa MD Pediatric Cardiologist
Emily Farkas MD, Cardiothoracic Surgeon (2nd week Mission Director)
Logan Griffiths RN PICU nurse
Robert Johnson, CSFA, Surgical Technician
Tom Ryan, CCP Perfusionist (HHH)
Nate Roddy, BMT Biomedical Engineer
Ron Roll & Family support (Alba, Cinthia, Nellie,  & Freddie HHH)
Farah Ghazala Rahman MD, Cardiothoracic Surgeon
Brian Smith, Sponsor/Coordinator (HHH)
Bill Zeman MD, Cardiologist and DataBase Director
Kelsy Zuckerman, DataBase Collator
UNITED KINGDOM / USA
Aubyn Marath, MD, Cardiothoracic Surgeon (1st week Mission Director)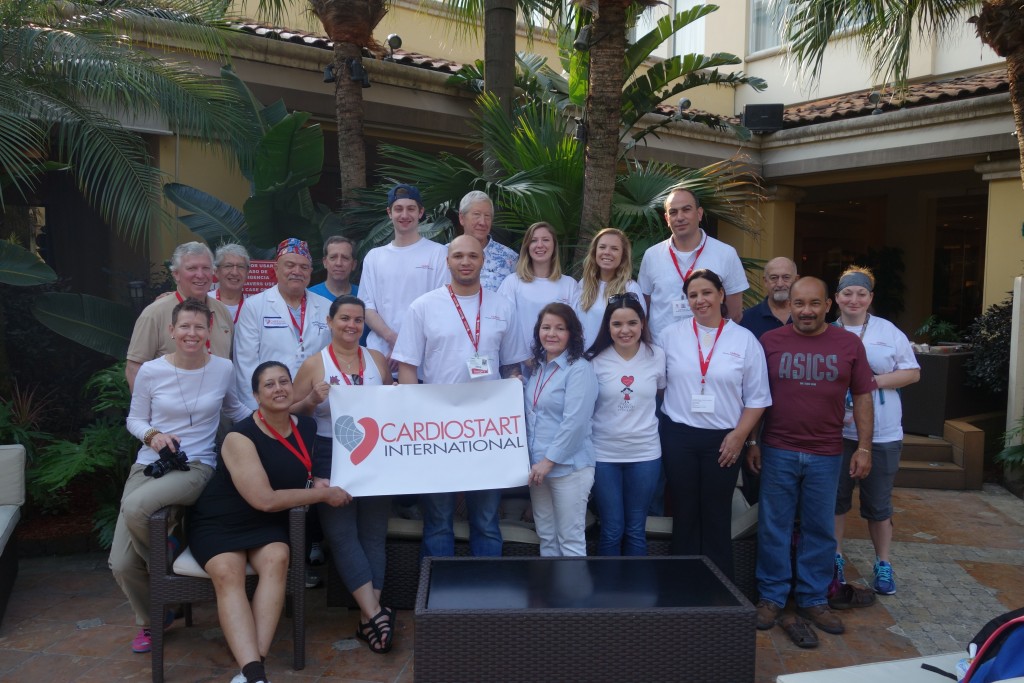 Acknowledgements
A number of individuals and corporations made generous in-kind and/or financial donations.  CardioStart gratefully acknowledges the following:
Abbott Laboratories – Loan Donation of I-Stat Technology)
Accuware Consultants , Ohio, USA (equipment)
The Amy Lauth Foundation, Virginia, USA
Prof. John Connett & Colleagues, University of Minnesota, RedCap professional support for DataBase.
CardioStart Administration Team, Tampa, Florida, USA
CardioStart ReSale Thrift, Oregon, USA
CorMatrix Inc., Pericardial Membrane
Eugene Southtowne Rotary Club, Oregon, USA (Equipment donations & Logistics – Lauren Alexander, Don Steely & colleagues)
Helping Hands for Honduras, Ohio, USA & Tegucigalpa, Honduras (sponsorship, logistics, coordination & equipment).
Scanlan Surgical Instruments, Minnesota, USA
United Methodist Church, Lake Oswego, OR, USA) (Children's gifts).
Mr. Robb Wilson, Wilson Medical Specialties – suture equipment donation
Derrin White –, Salem, OR, USA re-sterilization procedures
Dr. Dan Woodward and colleagues, OHSU, Portland, OR, USA – Medication procurement and discount supply of essential medications.