CardioStart International's 6th Mission to Nepal providing 
Adult Cardiothoracic Surgery
Shahid Dharma Bhakta National Transplant Centre Human Organ Transplant Centre (HOTC)
Bhaktapur, Nepal
and
Adult & Pediatric Cardiovascular Outreach
Pokhara, Nepal
Baglung, Nepal
Bandipur, Nepal

April 2018
In April 2018, CardioStart International returned for a sixth time to the country of Nepal and for a third time to the Human Organ Transplant Center (HOTC) in the historical city of Bhaktapur. CardioStart volunteers were organized into 2 teams: a surgery team that stayed in Bhaktapur to perform cardiovascular surgeries and a medical outreach team that ventured out into underserved rural areas to provide heart screenings with a focus on rheumatic heart disease (RHD) education.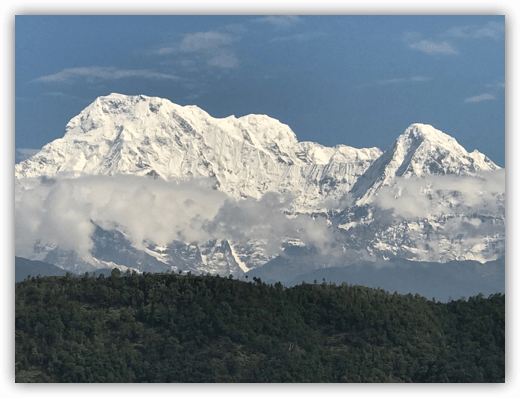 CardioStart's first mission to Nepal was to initiate a cardiac surgery program in Dhulikhel in May 2015. However, this scheduled mission overlapped with the devastating earthquake that claimed more than 9,000 lives, so volunteers instead partnered with local hospitals to provide much-needed care for earthquake victims. CardioStart wasn't able to perform surgery until its second visit a few months later in November 2016, and has returned several times since then to continue developing this important cardiovascular surgery program.
The April 2018 mission coincided with a nine day long Nepali New Year celebration in Bhaktapur called Bisket Jatra, which made for a great cultural experience for our volunteers. As the local Nepalese were celebrating the beginning of the year 2075, our team was hard at work in the Human Organ Transplant Center.
Cardiac Surgery Program Development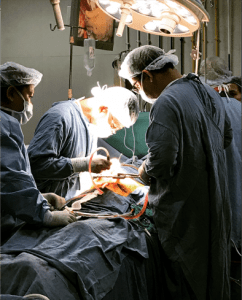 CardioStart volunteers provided all aspects of cardiac surgery in partnership with the HOTC team, including preoperative assessment and perioperative management. A high priority was given to providing education and skill transfer to the developing cardiovascular team at HOTC. In total, the CardioStart surgery team provided 6 diagnostic cardiac catheterizations, 1 aortogram, 2 atrial septal defect (ASD) repairs, and 1 double-valve replacement surgery.
Ongoing Echo Tech Training Program
This mission comes at the beginning of CardioStart's yearlong training program of bringing experienced echocardiographers (or "echo techs") from the United States to train Nepalese medical technicians how to perform and read echocardiograms. By the program's end, Nepali echo techs should be able to perform heart scans entirely on their own and be able to train future echo techs in other hospitals. Nepali echo techs were trained throughout CardioStart's surgical and outreach mission. 86 echocardiograms were performed during the surgery mission and 75 were performed during outreach by both Nepali trainees and CardioStart volunteers.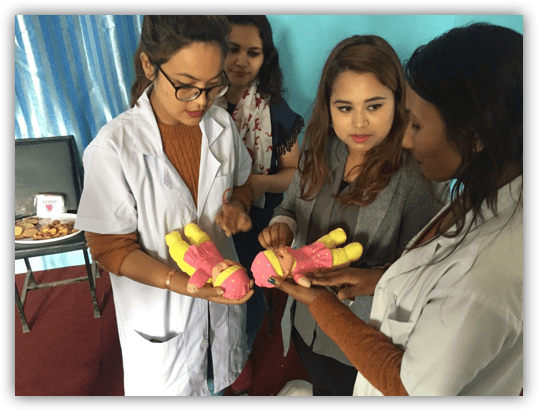 Medical Education
CardioStart International has been engaged in continuing education courses and advanced trainings for Nepalese healthcare providers since 2014 at Dhulikhel Hospital and since 2016 at HOTC. However, the April 2018 mission marked the inaugural educational program for the Intensive Care Unit nursing staff for three different learning groups: Bhaktapur Cancer Hospital, Bhaktapur Hospital, and our surgery host hospital HOTC. Over 182 hours of courses were taught over the course of 8 days (April 6 – 13, 2018):

Didactic and Hands-On Learning (14 hours):
Basic Life Support Adult/Infant/Child

Head to Toe Assessment and Breakout Sessions

VAP, CAUTI, CLABSI Infection Prevention

Mobility and Transferring Techniques

Hemodynamic Management

Heart Failure Management and Case Study

EKG Rhythm Interpretation and Management

Ventilation Management and ABG Interpretation

Bedside Education Precepting (168+ hours):
Epicardial Pacing

Rhythm Interpretation and Management of Arrhythmias

Identification of Pericarditis

PA Catheter Placement and Hemodynamic Management

Post Operative Care and Hemodynamic Resuscitation

Fluid Balance Management

Signs, Symptoms and Management of a Pericardial Effusion

IV infiltration Management

CAUTI, CLABSI prevention

Ventilator Weaning and Extubation Techniques

Aline and Pressure Bag Transducer Management

Chest Tube Management

Drip Titration of Inotropic & Vasoactive Medications

Electrolyte Replacement

Medication Administration & Monitoring of Cardiac Surgery Specific Medications

Cardiology Outreach
CardioStart's Nepal Outreach Team saw a total of 400 patients during cardiac outreach clinics in three different locations: Pokhara, Baglung, & Bandipur. The team traveled to remote locations in order to provide cardiac services like echocardiograms to areas that don't have them. These outreach clinics had CardioStart volunteers working alongside and discussing cases with Nepalese physicians and nurses. Although heart health and Rheumatic Heard Disease screening was at the center of these free clinics, general healthcare was also provided.
| | | | | |
| --- | --- | --- | --- | --- |
| | POKHARA | BAGLUNG | BANDIPUR | TOTAL |
| # PATIENTS | 40 | 300 | 60 | 400 |
| EKGS | 10 | 200 | 40 | 250 |
| ECHOS | 5 | 50 | 20 | 75 |
NEPAL 2018 TEAM MEMBERS
Cardiothoracic Surgeons
Emily Farkas, MD

USA

Fernando Riveron, MD

USA
Anesthesiologist
Cardiologists
Thomas Hilton, MD

USA

Khalid Sheikh, MD

USA

David McLaughlin, MD

USA
Perfusionist
Echo Tech
Surgery Tech
Biomedical Engineer
Cath Lab
Charge Nurse/Coordinator
ICU RNs
Margaret Hudson, RN

USA

Jessica Thatcher, RN

USA

Stephanie Pretty, RN

USA



Physicians Assistant
Database Researcher
Outreach Internal Medicine

 
Cleland Child, MD, MPH

USA
Outreach RN
Abbey Roepke, RN, MPH

USA
Outreach Assistant
Outreach Coordinator
Acknowledgements
CardioStart International is very grateful for the following who made this trip successful:
Edwards LifeSciences Foundation / Thoracic Surgery Foundation / Society of Thoracic Surgeons for grant support through the "Every Heartbeat Matters" initiative

Edwards LifeSciences Inc. for equipment and medical disposables donations

Medtronic / ATS for donation of heart valves and cardiothoracic disposables

Maquet Medical Systems USA for cardiovascular device and disposables donations

Scanlan Inc. for surgical instruments

AmeriCares Medical Outreach Program for equipment, medications, and medical disposables through the "Safe Surgery Initiative" program

ThedaCare Appleton Medical Center for medication, surgical supplies, and disposable materials donation

John Tylee Wilson and the J. Tylee Wilson Family Foundation

Joe and Brenda Adeeb

Ashley and Will Slagle

Bahram Hashemi and Accuware Consultants for logistical assistance and facilitation of medical donations

Shari Maguire and colleagues from CardioStart ReSale Thrift Foundation, Oregon, for their donation for database and general fund support

Janine Henson, Charlotte Kozlin & Margaret Child for CardioStart office administration and logistics

Lexi Parliament and Darlene Crook for managing all the equipment & supplies at the CardioStart warehouse

Manatee Memorial Hospital in Bradenton, Florida and Johns Hopkins All Children's Hospital in St Petersburg, Florida for recurring medical donations

Warming The World for the donation of handmade baby blankets and hats

United Methodist Church, (Marilyn Zeigler & colleagues) Lake Oswego, Oregon for the heart pillows given to our surgery patients to splint for pain.

Abbey Roepke, Lexi Parliament & the Parliament Family for donating outreach supplies

Dan Carella & his student volunteers from Lecanto High School in Lecanto, Florida for donating outreach supplies

Maxine Rodgers for donating post-op patient kits

All of the generous donors and volunteers who have supported our programs in Nepal and worldwide throughout our 31 years of service