CardioStart Mission Announcement to Kumasi, Ghana
Adult Cardiac Surgical Mission & Electrophysiology Program  •  January 10th-17th, 2020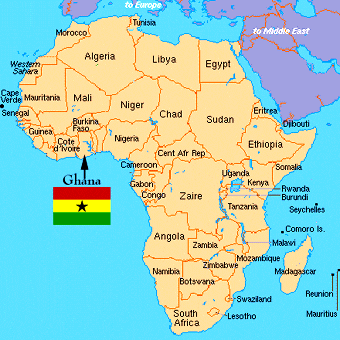 CardioStart International Board and International Missions Committee is proud to announce its 2020 mission to Kumasi, Ghana at Komfo Anokye Teaching Hospital (KATH).  Applicants are welcome to apply at www.cardiostart.org. Team selections will be made based on team needs and professional experience. CardioStart balances each team with returning volunteers and those joining a mission for the first time.
The Republic of Ghana is located in West Africa. Kumasi lies west of the capital Accra. This second major historic city was once the capital of the Ashanti Empire. It continues to serve as the cultural center of the Ashanti people. Although the city was destroyed almost a century ago, modern Kumasi has a vibrant cultural center and museum as well as the modern palace of the Asantehene (the absolute monarch of the Kingdom of Ashanti).
In contemporary times, Ghana has been widely viewed as one of Africa's most stable democracies, becoming a republic in July 1960. It was the first African nation to achieve independence from its colonial heritage under the United Kingdom in 1957.  The name Ghana was chosen for the new nation to reflect the ancient Empire of Ghana that once extended throughout much of western Africa, (in the Ashanti language, it is spelled Gaana). It compares in size to Oregon, USA.
Much of the historical interest in Ghana is based upon its legacy as the center of the gold, ivory, and slave trade during the 17th and 18th centuries. In modern times, Ghana possesses one of the best game reserves in West Africa, a multitude of good beaches and is well known for its hospitality.
Cardiac Surgery Status in Ghana
There is a single center in Accra. The National Cardiothoracic Center is performing a small number of cases each year (approximately 100, mostly valves). Accra cannot do more than a small volume of cases due to varying types of restrictions, and these are fee-paying private cases.  The Komfo Anokye Teaching Hospital (KATH) in Kumasi serves a regionally more deprived population and will help meet the volume of cases needing to be done.
Although CardioStart has conducted several missions to KATH in the past, a recent and promising collaboration with the James Cook University program in the UK supported primarily by Edwards Lifesciences has accelerated its progression toward independence. Key clinicians from KATH recently spent 1 month at the James Cook University Program in England to learn how a major cardiac center functions and to intensify training in each respective area of cardiovascular care.  Subsequently, a series of 4 missions in relatively quick succession over 9 months have been planned (and 2 already completed) to establish patterns and protocols that will maintain momentum directed at the creation of a sustainable service line.
OUR MISSION:

 

ADULT CARDIAC SURGERY and ELECTROPHYSIOLOGY
TEAM:
The team will leave their respective countries for Ghana on Friday, January 10th with arrival in Accra, Ghana on Saturday January 11th.  We will stay overnight in Accra then leave on an early domestic flight together on Sunday, January 12th for Kumasi, which is less than one hour away.  We will then meet and evaluate the patients and prepare the operating room and clinical areas for a week of procedures ahead. 
CardioStart will work with the local team to further establish cardiac surgery at the hospital and help set the necessary benchmarks for the hospital to become a regional tertiary referral center.  As part of this mission, the team will help evolve the rhythm of regular operating, monitor progress and continue providing ongoing physician and nurse cardiology/surgical medical education.
Cases will further prepare the entire program with nursing, biomedical, perfusion, ICU equipment and teaching.  The cases will be chosen according to the discretion of the cardiologists and heart surgeons, in collaboration with the local team. Rheumatic valvular pathology is a very common etiology.
The Electrophysiology portion of the Cardiology program is also being established, and a few members of the team will be concurrently implanting permanent pacemakers and potentially defibrillators and/or evaluating for other advanced therapies if warranted.
Recommended Cardiac surgery team requirements:
1 Adult Anesthesiologist

2 Adult Cardiac Surgeons (filled)

1 General Cardiologist

1 Electrophysiologist

1 Perfusionist

1 Biomedical Engineer (filled)

1 Respiratory therapist

1 Echo Technician

1 OR Nurse/Tech

1 Database Research Assistant

3-4 Cardiovascular ICU nurses (Pacemaker Nurses invited to apply)
Mission Travel Details
Airfare:
Airfare costs will be self-funded by each volunteer.  Popular flight corridors are through Frankfurt, Amsterdam or London, direct to Accra. Delta has direct flights to Accra via Atlanta and JFK. DO NOT PURCHASE A TICKET UNTIL YOU ARE CONFIRMED ON THE TEAM.
Visa:
A visa is required for US citizens and can be easily obtained by mail via the consulate in Houston, Texas.  Expedited processing is possible to allow receipt of documents within 48-72 hours.  General processing is also quite efficient compared to many other African countries.
Lodging:
This will be provided. Volunteers should expect that they may be asked to agree to same-sex room sharing in order to help reduce the costs.  CardioStart will assure minimum standards to ensure volunteer safety and comfort.
Meals: 
During the day, meals will be available and provided for by the hospital.   Evening meals/snacks, etc. are available in the hotel or local restaurants in Kumasi, at volunteers own expense.  They are generally of a high standard and inexpensive.
Travel/Touring: 
Safari, coastal trips and other adventures are worth considering. CardioStart mission leaders cannot directly help you make internal tourist travel arrangements but you can usually obtain travel packages during the week you arrive.  Any tours must be made before or after the mission.   This time is considered a personal vacation and is not part of the mission; therefore, CardioStart assumes no responsibility.
Medical issues:
All volunteer activity will be carried out with universal precautionary measures.   You should have a routine check-up before travel of your HIV and Hepatitis a/b/c status. Vaccinations should be reviewed and documented by your local travel clinic.  Those with serious medical conditions should obtain consultation and approval from their doctor prior to the mission.  You will also be required to either purchase travel medical insurance or proof of medical coverage out of your home country.  (Full details will be sent to those volunteers joining this mission).
Applying for CardioStarts' Mission to Ghana:
Please complete the Volunteer Form and upload your CV/resume.
If you are accepted on the team, you will receive additional correspondence from CardioStart to proceed in submitting necessary paperwork and documentation.
We hope you'll consider joining us for a meaningful mission in Ghana!