Report of CardioStart's 3rd Mission to
Kathmandu University / Dhulikhel Hospital
Dhulikhel, Nepal
June 10-18th, 2016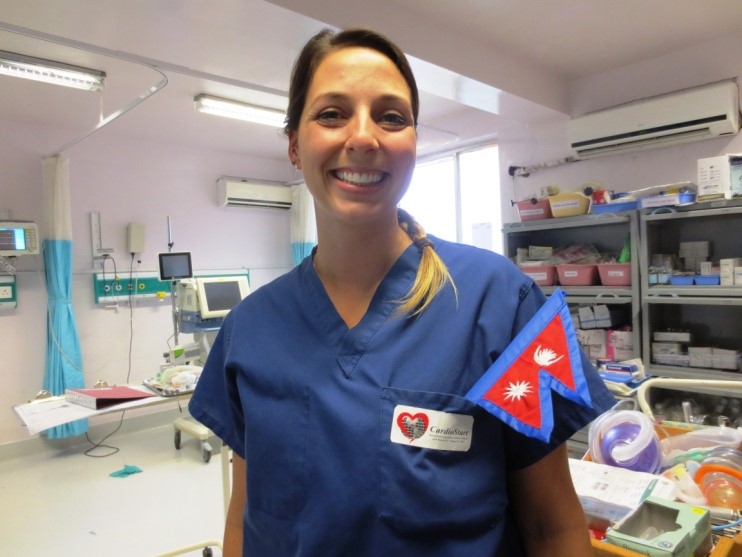 Mission Snapshot
Mission Location: Dhulikhel, Nepal
Number of Surgeries: 5
Number of Volunteers: 11
Accomplishments: Returned to support the growing the cardiac surgery program for adults established in November, 2015. Created a step-down unit for post-surgical patients.
Mission Details
On June 10th, 2016 a small but driven team of 10 CardioStart International volunteers traveling from Nigeria, Pakistan, Malta, the United Kingdom and the United States came together to assist the people of Nepal.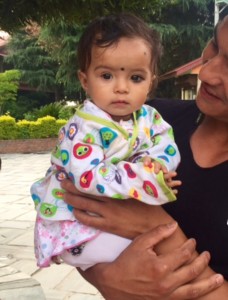 A  father brings his daughter to Kathmandu University
for evaluation of a heart problem.
This was CardioStart's third visit to Kathmandu University hospital in Dhulikhel, Nepal.  Our first mission to help initiate the cardiac surgery program in May of 2015 overlapped with the devastating earthquake and aftermath that claimed more than 9000 lives.  The CardioStart team partnered with the clinicians of Dhulikhel Hospital in the earthquake relief efforts throughout the Kathmandu Valley and at the primary hospital, which served as a major center to which casualties from most of eastern Nepal were directed.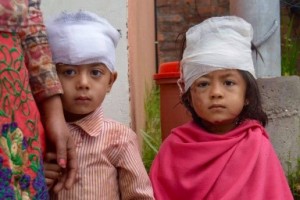 Although no cardiac surgery was pursued under those circumstances, the people of Nepal and specifically those at Dhulikhel hospital showed their remarkable strength and resilience by wishing to move forward with the cardiac surgery program only a few months later.  This choice was primarily made for the many patients in desperate need of cardiovascular care, but also because it represented a sign of progress and recovery following the tragedy.  Therefore, in November of 2015, the CardioStart team returned to assist in the establishment and performance of the first heart surgeries at Kathmandu University. 
In June, CardioStart returned for the first of two 2016 teaching missions to Dhulikhel to progress and advance the cardiac program through education, skill transfer, and further partnership with the clinicians at Kathmandu University.  This small group had defined & aggressive goals for a short period of time, but we were pleased to be able to accomplish them together with the team at Dhulikhel:
GOAL 1: REINVIGORATE THE PROGRAM AND STAFF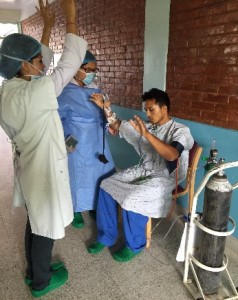 Although this young program was only able to complete 12 operations in the last 6 months, together we performed 5 complex cases in one week very safely and with excellent early outcomes (see chart below).  Providing techniques and recommendations for continued efficiency, the staff was empowered to move forward in their development with confidence, even after our departure.   There was an outpouring of patients seeking evaluation and treatment, as well as an important renewed staff interest in providing patient referrals.


GOAL 2: RECOVER PATIENTS EXPEDITIOUSLY & WITH A HIGH STANDARD OF CARE
All patients were able to be removed from the respirator within 6 hours of surgery, a goal targeted by respected programs around the world.  We introduced advanced hemodynamic monitoring to facilitate this by utilizing the first pulmonary artery catheter as well as newly donated state-of-the-art heart monitors for the ICU.



GOAL 3: CREATE A POST-OPERATIVE STEP-DOWN UNIT
A free-standing telemetry monitoring unit was created to allow the transition of patients smoothly and safely from the ICU.  This allowed the operative schedule to be optimized, without needing to cancel surgeries for new patients because of a build-up of postoperative patients in the ICU.
GOAL 4: FURTHER DEVELOP EDUCATIONAL EFFORTS IN ALL AREAS
With CardioStart representatives in Anesthesia, Perfusion, Operating Room nursing, ICU nursing, Surgery & Cardiology, we were able to provide targeted education and skill transfer in all major areas of the cardiovascular service line.  Additionally, a well-attended symposium was held by our CardioStart Cardiologist and Echocardiographer to learn and practice trans-esophageal echo techniques.  Clinicians from anesthesia, cardiology, and surgery found this hands-on practical session beneficial to advance their scope of practice for patients.
GOAL 5: ESTABLISH OUR COMMITMENT TO COLLABORATE
CardioStart is privileged to partner with this talented and dedicated local team.  We re-emphasized our ongoing commitment to support and collaborate with Kathmandu University/ Dhulikhel Hospital to assist in development of their program until it becomes a successful and self-sustaining source of cardiovascular care that is desperately needed for the people of Nepal.
PATIENTS
CardioStart Team: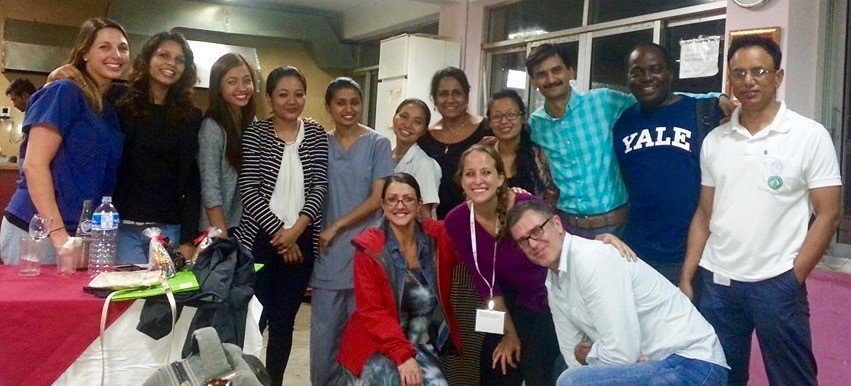 ACKNOWLEDGEMENTS
CardioStart International wishes to extend their sincere thanks and appreciation to:
Edwards LifeSciences Foundation / Thoracic Surgery Foundation / Society of Thoracic Surgeons for grant support through the "Every Heartbeat Matters" initiative
Edwards LifeSciences Inc. for equipment and medical disposables donations
Medtronic / ATS for donation of heart valves and cardiothoracic disposables
Scanlan Inc., for surgical instrument availability and donations
Abbott Point of Care for I-Stat equipment and disposables
AmeriCares Medical Outreach Program for equipment, medications, and medical disposables   donation through the "Safe Surgery Initiative" program
ThedaCare Appleton Medical Center for medication, surgical supplies, and disposable materials donation
Amy Lauth Foundation, Roanoke, VA for logistical help in Tampa, Florida and container expenses (scheduled for August 2016)
John Tylee Wilson and the J Tylee Wilson Family Foundation
Joe and Brenda Adeeb
Ashley and Will Slagle
Maguire & colleagues from CardioStart ReSale Thrift Foundation, Oregon, for their donation for database and general fund support
Janine Henson, Charlotte Kozlin & Nadine Nuchovich for CardioStart Office Administration & Logistics
All of the generous donors and volunteers who have supported our programs in Nepal and worldwide.