Report of CardioStart's Inaugural Mission to
Enugu, Nigeria
August 15-29, 2015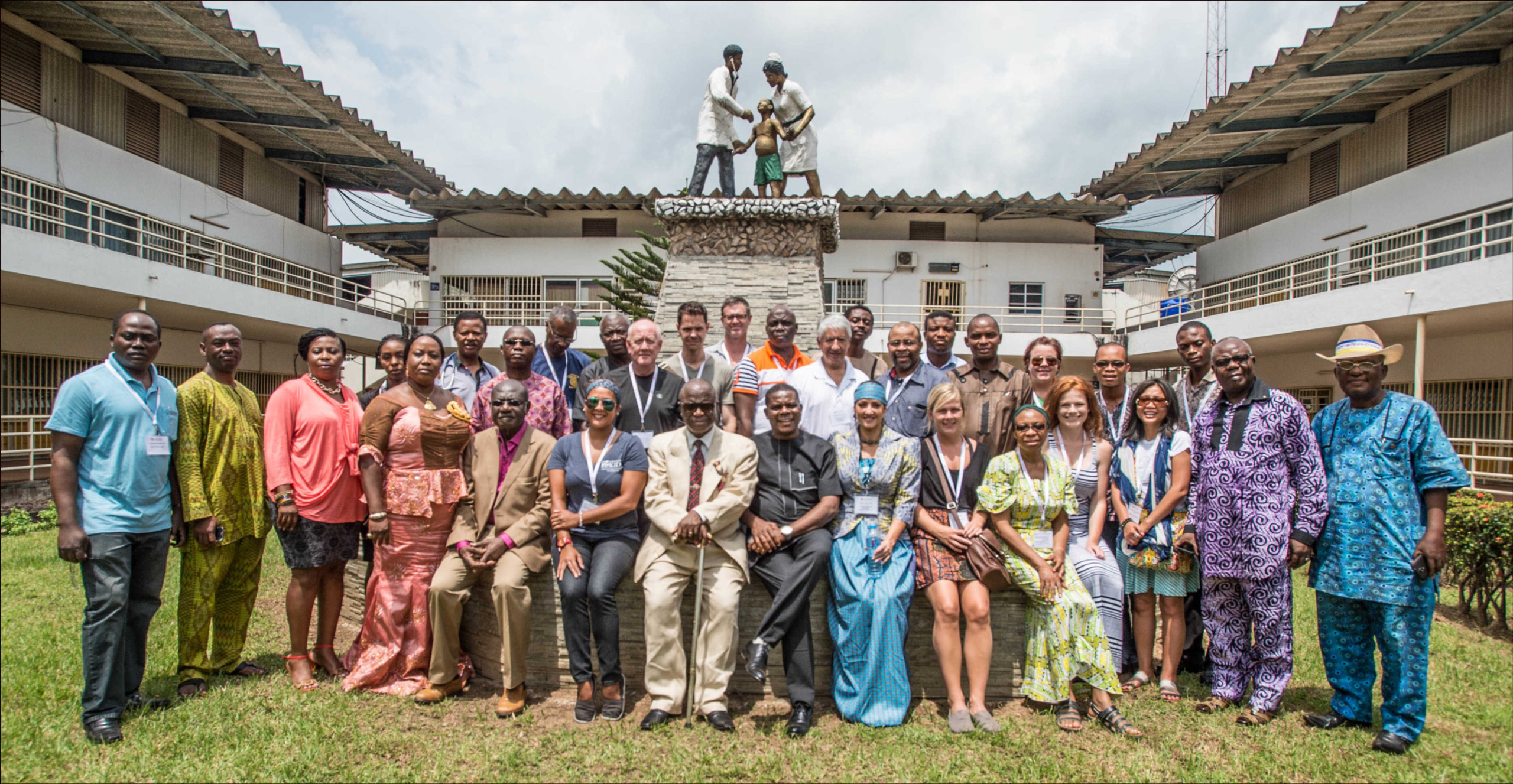 Members of CardioStart & UNTH teams together with representatives from Rotary International
On August 15, 2015, 18 volunteers from 5 different countries commenced a pediatric cardiac surgical program-building effort at the University of Nigeria Teaching Hospital in Enugu, Nigeria. This represented the inaugural mission by CardioStart International in conjunction with the VOOM Foundation and was generously supported by Rotary International and Gift of Life.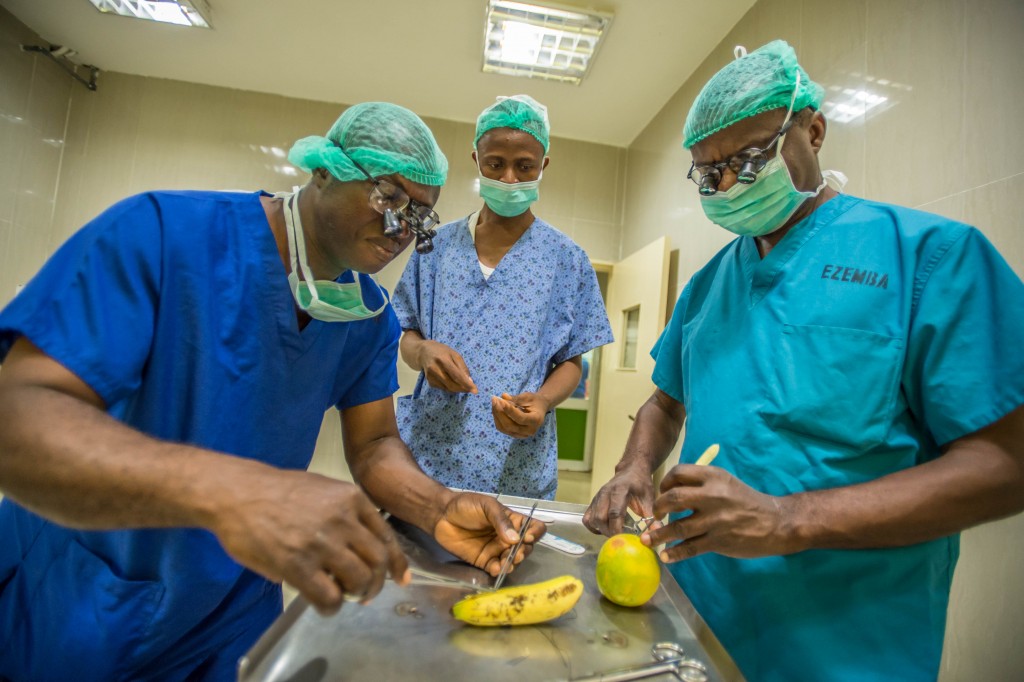 UNTH doctors practice some suturing techniques learned from the CardioStart team
The University of Nigeria Teaching Hospital (UNTH) in Enugu is among the top five teaching hospitals in Nigeria, with the statutory mandate of research, teaching, and specialist healthcare delivery. Although the Minister of Health has designated UNTH as a National Cardiothoracic Centre of Excellence, until recently, no cardiac surgery had been performed there for over 10 years.
In 2013, an umbrella NGO called the VOOM Foundation (www.voom foundation.org) headlined the first of 6 subsequent missions to make cardiac surgery possible again for patients from all over Nigeria. There are Cardiothoracic Surgery, Cardiology, & advanced nursing training programs in place, and strong support has been promised from the state & hospital administration to move the center toward an independently functioning program to serve the people of Nigeria. There had been only 1 previous pediatric surgical mission.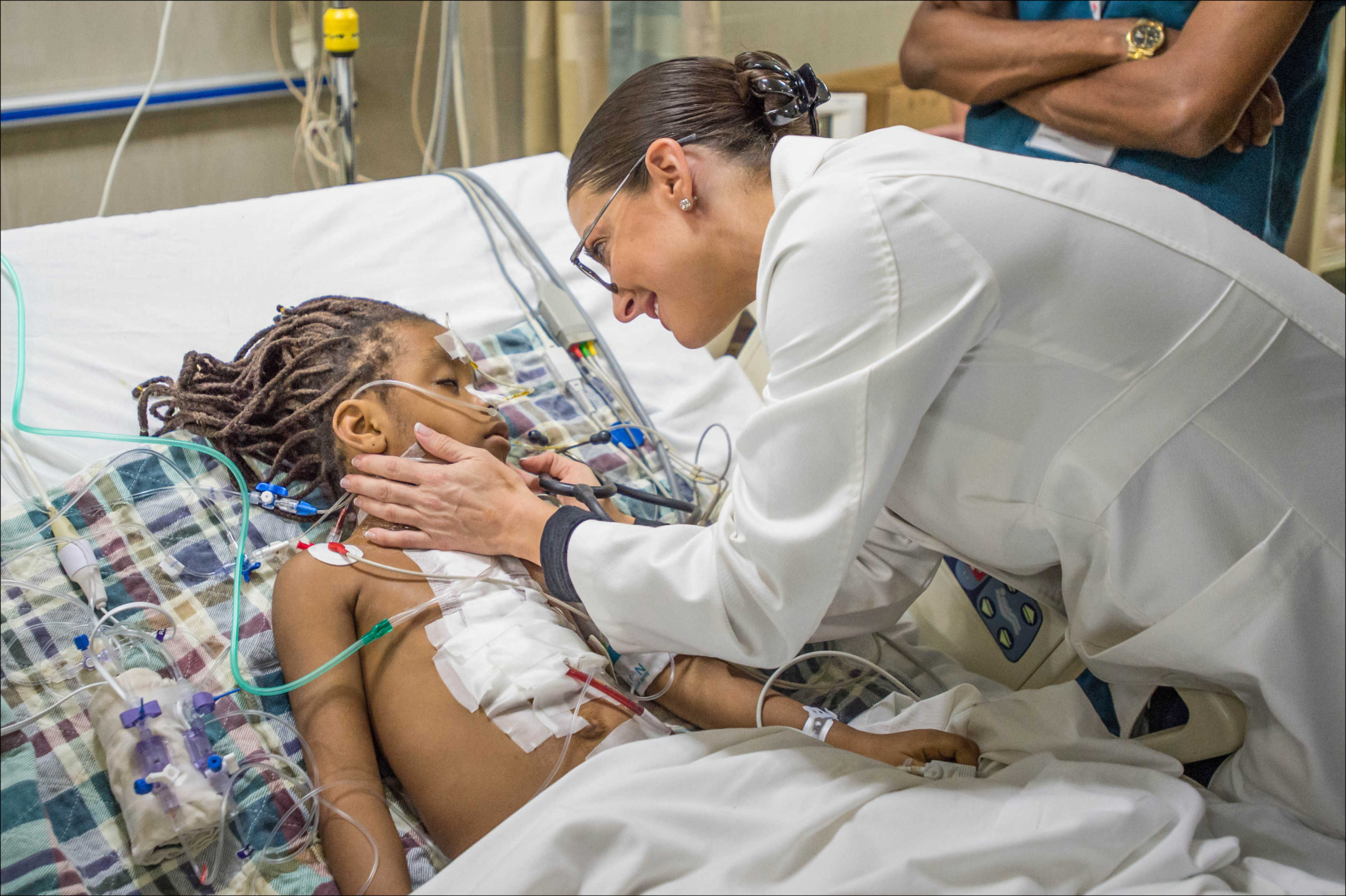 This created an excellent opportunity for CardioStart clinicians to make a meaningful difference, and in fact this mission represented a major turning point for the cardiac surgery program at UNTH: for the first time in the history of the program, local Nigerian surgeons functioned as the primary operators on all cases with CardioStart surgeons in a secondary role as assistants. Twelve surgeries were performed on patients ranging in age from 11 months to 13 years old over the 2-week visit.
OPERATIVE PROCEDURES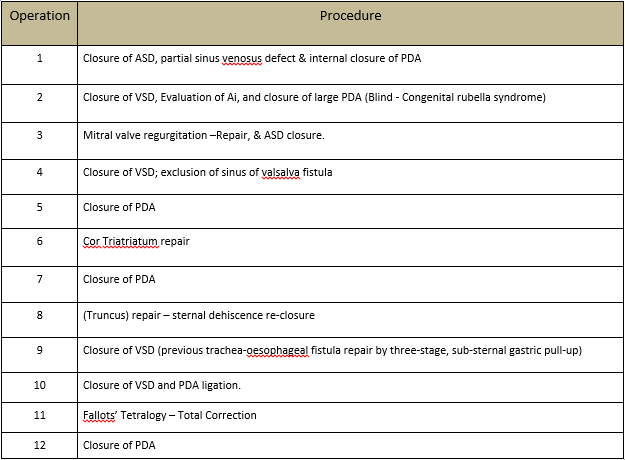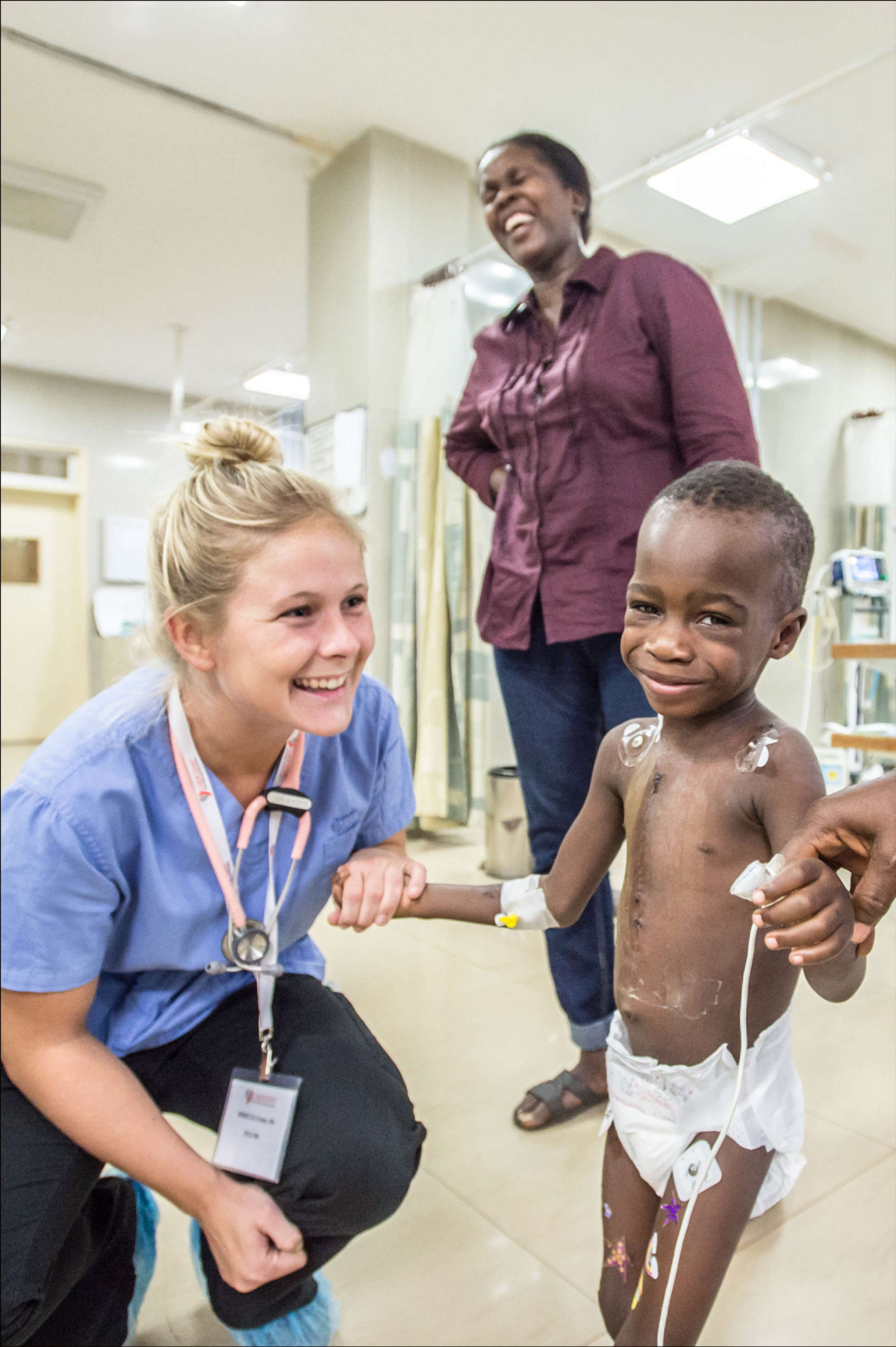 MISSION ACCOMPLISHMENTS
The CardioStart Mission Coordinator acted as a liaison and point-person, who along with the doctor, interacted with the families at all stages of the process and conducted pre-operative and post-operative teaching and explanations of what to expect with cardiac surgery. As the primary focus of our mission, training and education were prioritized in every circumstance, and in all areas of clinical practice.
Surgery:
All operative cases were treated as teaching opportunities, and the local surgical team were primary surgeons on every case for all or part of the procedure (with CardioStart volunteers assisting).
Procedures and techniques included:
– cannulation options and possible complications
– advanced management of cardiopulmonary bypass
– approaches for patent ductus arteriosum ligation during other cardiac surgical procedures & in small babies
– ventricular septal defect evaluation, closure options, & techniques
– complex congenital defect evaluation & treatment including anomalous pulmonary venous return, cor triatriatum, tetralogy of Fallot, etc.
– intra-operative decision making with combination defects
– safe separation from cardiopulmonary bypass
Anesthesia:
Our CardioStart anesthesiologist worked closely with the local team on every case to review, discuss, and implement operative preparation, line placement, medication selection, difficult airway approaches & techniques, advanced hemodynamic management, and prioritization in emergencies.
Perfusion:
The CardioStart perfusion team worked alongside the local perfusionist focusing on every aspect from assessing inventory, setting up the circuit, complex intraoperative management and problem-solving, enhanced communication, blood transfusion protocols, assessing needs in an emergency, and optimal maintenance of equipment while not in use.
Operating Room Nursing:
Our CardioStart O.R. RN became an integrated part of the surgical scrub team to improve patient & instrument/materials preparation for surgery, identification & confirmation of patient/procedure/antibiotic administration/blood bank preparation etc.
Intensive Care:
CardioStart nurses worked within the ICU team 24hrs/day and empowered the local nurses by encouraging their autonomy in many areas where they have achieved a high level of competence. In addition, they suggested complimentary protocols and provided education & real-time training in advanced topics such as hemodynamic management in complex congenital physiology, pediatric advanced life support algorithms, and prioritization of acute problems and expeditious treatment.
Cardiology: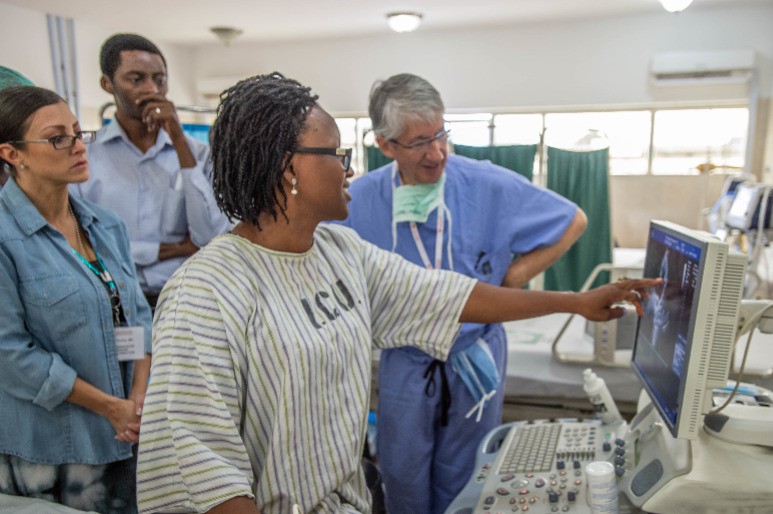 The team reviews echocardiograms of the heart
Our CardioStart cardiologist was an integrated member of the pediatric cardiology group and evaluated both surgical and non-surgical patients. This included history & physical examination, real-time diagnostic imaging with echocardiogram, requesting & reviewing additional studies for evaluation, and integrating the information to develop detailed treatment plans.
Respiratory Therapy: Our CardioStart respiratory therapist conducted lectures and and training regarding advanced airway issues, ventilator management, peri-operative respiratory optimization, and emergency considerations.
Biomedical Engineering: Our CardioStart biomed worked alongside his colleagues from UNTH to anticipate logistical problems with all equipment, facilitate synchronization & compatibility among different brands & iterations of devices, repair and quality-check uncommonly used but critical items, and repair or identify channels for repair for all dysfunctional items.
Research & Patient Relations:
The research aspect of the mission was advanced through database information acquisition. All patients receiving surgery were tracked for future follow-up assessment.
ACKNOWLEDGEMENTS
1. Rotary International, Nigerian Districts 7640, 9110, 9125, 9140, 7255, and 7260; Rotary Clubs of Riverhead, Lindenhurst, Southold, and Huntington Station with special thanks to Mr. Irving Toliver and Mr. Lawrence Okwor
2. Amy Lauth Foundation for Administrative and logistics (equipment donation) with special thanks to Mr. & Mrs. Robert McNichols and their Board.
3. Gift of Life International with special thanks to Mr. Rob Raylman and Ms. Brenda Small for coordination and support with fundraising, operational planning and execution.
4. VOOM Foundation with special thanks to Dr. Vincent Ohaju and Mr. Mike Essien for coordination and support with fundraising, visa procurement, operational planning and execution.
5. Abbott Point of Care for I-Stat equipment and disposables.
6. Medtronic / ATS for donation of cardiothoracic disposables.
7. Edwards LifeSciences Inc., for equipment donations.
8. Scanlan Inc., for surgical instrument availability and donations.
9. Ms. Nan Coleman & colleagues, for logistics and equipment donations in Tampa, Florida.
10. Dan Carella & students at Lecanto High School for equipment procurement and donations.
11. Genesis Medical Center, with special thanks to Mr. Kevin Cahill for facilitating medication acquisition.
12. Ms. Janine Henson, Ms. Charlotte Kozlin & Ms. Nadine Nuchovich for CardioStart Office Administration.
13. Kingsway Charities for facilitating medication acquisition.
14. Ms. Shari Maguire & colleagues from CardioStart ReSale Thrift Foundation, Oregon, for their donation for database and general fund support.