If you put together cardiologists, perfusionists, surgical techs, ICU and pediatric nurses, emergency physicians, respiratory therapists, anesthesiologists, data processors, biomedical techs and all the supplies that they can bring along with two enormous shipments, the result is a well oiled machine. These people come here as strangers and represent the countries of Uganda, Nigeria, UK, Germany, Pakistan and the USA. These volunteers pay their own airfare and use their vacation time to work for the good of the patients and to improve the quality of care. These talented, devoted professionals energetically attacked the first day and I was inspired watching them use their skills to organize supplies, repair equipment, meet their 'matches' from Uganda and set up a plan for the first surgery, which will be done together tomorrow. I have volunteered all over the world in many different projects but this project brings together highly skilled professionals able to blend together their skills seamlessly.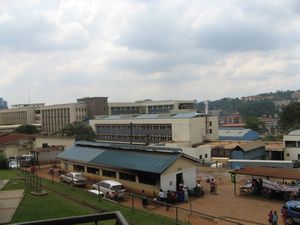 Uganda gained independence from the UK in 1962 and celebrate their 50th anniversary this year. A sense of pride prevails as do warm smiles.  Some don't speak English or we fumble with our accents. The Mulago Hospital of Kampala has just added the Heart Institute, a new facility and wisely invites cardiac teams  from all over the world to come teach them how to excel and improve their new cardiac unit. Mulago Hospital is owned by three government agencies, the National Hospital, the Ministry of Health, the Mulago Teaching Hospital and one public agency, the Uganda Heart Foundation. The hospital is a non-profit and they ask the patients to pay what they can. Sometimes that means buying the supplies that are needed.
Dr. John Omagino, the director of the Heart Institute, welcomed us all warmly asking the team to be candid on areas that need to be strengthened, to help fill the gaps. They are in year three of their five-year plan to be self sustaining. He said one of their biggest problems is maintaining equipment. Cardiostart brought two biomedical engineers, who immediately got to work checking equipment.
On our side, Dr. Aubyn Marath, the founder of Cardiostart, suggested that everyone remember that we are invited here and must gently start to improve areas that we see, to teach. To go slowly, and to remember to be sensitive.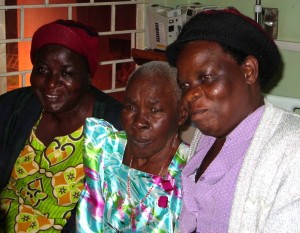 I first met a tiny, frail 82-year old woman in a beautiful jacket sat proudly surrounded by her two daughters. She was scheduled for a pacemaker that afternoon. They had traveled a long way to get here for a surgery made possible by the Cardiostart team.
I also met a gorgeous little 5-year-old girl with a beautiful pink dress and an IV port in her wrist. Her name is Nampewo Fakia. I had a finger puppet that we played with for awhile and loved seeing her smile. Her mom didn't speak English but she asked me to feel her girls chest with my hand. I explained that I'm not a nurse or a doctor…yea, that's tough when we don't speak the same language…but I put my hand there and felt this big beating heart! Another woman came over to translate. Her mom Nanyonjo and she lives in the village of Simgiro in Nyamuyanja, 91 miles away. They have no money but hope that something can be done for her daughter.
In a bed across the way was an adorable little boy, Mujuzi Ben, who is 8-years old. His mother was so pleased that they were called to have surgery. She said they are poor and live in Gomba in the village of Kiriri. With an enormous smile she, Nanyunja, thanked me for helping her son.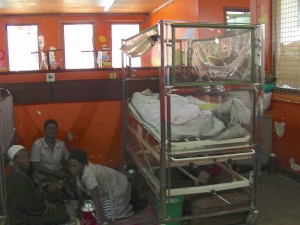 In these wards, the family sleeps on the floor on a little rug that they bring. They bring food from home. All over the ward people are gathered at the bedside and everyone talks to everyone else. The ICU unit has only four beds in it but our nurses feel really good about how things are being handled here.
Lastly, I spoke with Herbet, who is 28-years old, and will be the first surgery in Uganda for Cardiostart. He lives in Kampala and they have been waiting since March for the okay for this operation. He is a very sweet, young man and nervous about the operation. His brother and sister were with him at the bedside and his brother will spend the night with him. I don't think these words can transmit the warmth and openness and gratitude that I see here. Hopefully his surgery will go very well tomorrow.