REPORT OF PEDIATRIC HEART SURGERY MISSION
SANTO DOMINGO, DOMINICAN REPUBLIC.
Date: 7th – 15th November, 2015
In November, 2015, CardioStart undertook a mission to The Clinica Corazones Unidos Hospital in Santo Domingo. The mission focused entirely on developing and teaching the management of children needing congenital cardiac correction.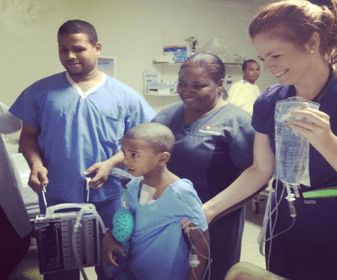 The Dominican Republic on the island of Hispaniola, shares the island with the nation of Haiti, and by area and population, it is the second largest Caribbean nation (after Cuba), supporting 10 million people. It has the ninth largest economy in Latin America and the second largest economy in the Caribbean and Central American region. Delivery of cardiac services, however, remains constantly short of targets, and is particularly disadvantaged in its struggle to provide complex pediatric heart disease management. Only three centers in the country provide any pediatric heart surgery treatment (two in Santa Domingo, one in Santiago).   CardioStart was invited to assist this program and help the advancement of pediatric cardiology and cardiac surgery techniques to help address the shortage of facilities and expertise at Clinica Corazones Unidos. This facility is already managing adult cardiac cases. CardioStart's team emphasized skills training and development for the local cardiologists, cardiac surgeons, anesthesiologists, ICU doctors, nurses and allied professionals. Team volunteers participated in teaching and demonstration in all areas within their expertise and introduced respiratory care as a vital part of intensive care management. The local team impressed us with their skills and worked very hard to present and help manage patients in the conditions they faced, and they provided excellent preoperative evaluation and optimization & presentation of all the patients contributed to success and education of all involved. There was a warm interaction between  local staffs and Cardiostart team, and the ICU and OR local nurses and technicians were very accommodating to the visiting team.   Availability of most of the required consumables and drugs &  equipment in the ICU and OR. They are clearly working under difficult supply conditions in several areas.
SURGICAL CASES ACCOMPLISHED
All operations performed were considered teaching cases in which the local team assumed a primary role (Drs. Fausto Santos, Freddie Madera, Ramon Antonio Almanzar and Ihara Fernandez) assisted by CardioStart's surgeons. All procedures were managed by the supporting CardioStart team and local team efforts.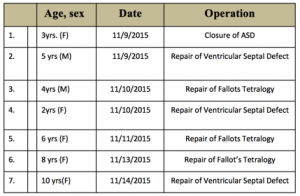 Several recommendations in clinical management were made to assist with improvement as the local program grows, and the success of seven case accomplished with no mortality is a testament to the strength of the team support from both the local Dominican Republic team members and CardioStart's global volunteers.
THE CARDIOSTART TEAM
The CardioStart team members were represented by volunteers from across the globe: in addition to surgeons, perfusionist, nurses and respiratory therapists (USA), Canada was well represented by pediatric ICU nurses, and pediatric anesthesiology provided by an expert from Nigeria. He had assisted CardioStart conduct its mission in Enugu, Nigeria during August 2015, and found the different location very rewarding for its value in building his own personal experience.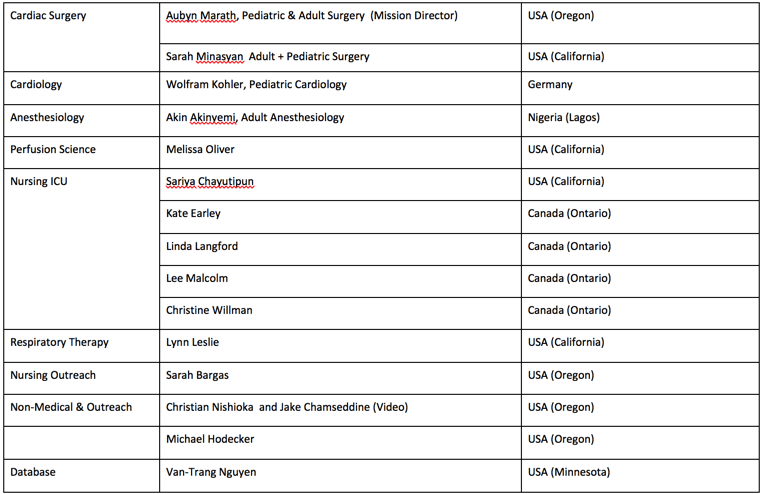 OUTREACH PROGRAM
CardioStart made visits to Dona Chucha home and music appreciation demonstrations were given to the children by US nationally admired classical violinist, Michael Hodecker. Rural clinic visits by CardioStart's cardiologist and nurse, assisting Elaine Garrido and colleagues to visits to Dona Chucha and Manoguayabo rural clinics. There, they offered cardiology assessment and specialist counseling.
ACKNOWLEDGEMENTS
CardioStart's Dominican Republic Mission Team, November 2015 were welcomed to a Fundacion musical program led by Michael Hodecker and famous Dominican Republic pianist, Maria de Fatima Gerald's. The event was organized by Carmen Rita Maligon, Fabiola Herrera and Mrs. Susana Caro who welcomed the team at her family home.
CardioStart also gratefully acknowledges the following who contributed to the success of the program: First, The Fundacion Heart Care Dominica Team, led by Mary Carmen Mota, Executive Director, the Clinica Corazones Unidos hospital leaders, medical, nursing and paramedical colleagues, for hospitality, accommodation organization and in-country logistics operation.
Accuware Inc., (Mr. 5Bahram Hashemi) (Columbus, Ohio, USA) for equipment donation.
Admedus Inc., (Minneapolis, MN, USA) for medical donation.
Americares, (CT, USA), for medical donation.
Amy Lauth Foundation, (Roanoke, VA, USA) for Administrative and logistics (equipment donation) with special thanks to Mr. & Mrs. Robert McNichols and their Board.
CardioStart ReSale Thrift Foundation, (Sisters, Oregon, USA), for financial donation support.
Children's LifeLine International, (Solana Beach, CA, USA) for financial support.
Cryolife Inc., (Kennesaw, GA, USA), for medical donation.
Edwards LifeSciences Inc., (Irvine, CA, USA) for medical donation.
Genesis Medical Center, (Mr. Kevin Cahill) (Iowa, USA) for medication donation.
Genesee Biomedical Inc, (Denver, Co, USA) for pediatric instrument donation.
Medtronic / ATS, (St. Paul, MN, USA) for medical donation.
Scanlan Inc., for surgical instrument availability and donation.
Joseph de George Ceilings & Mrs. Holly (Dieu Hien) Sackett (Rochester, NY, USA) for financial donation.
Family of Ms. Sariya Chayutipun, (LosAngeles, CA, USA) for financial donation support.
Tami Haseltine-Stromsted & colleagues (Brookings, OR, USA) for rehabilitation equipment donations.
Derrin White, (Salem, Oregon, USA) for instrument sterilization support.
TJ Peterson, (Portland, OR, USA) for Logistics support – medical equipment.
University of Minnesota (Biostatistical and Translational Research Center, Prof. John Connett & colleagues, for database advice, support (Minneapolis, MN, USA).
Volunteers of United Methodist Church, (Lake Oswego, OR, USA), for rehabilitation equipment donation.
Janine Henson, Ms. Charlotte Kozlin & Ms. Nadine Nuchovich (for CardioStart Office Administration), & Ms. Nan Coleman & colleagues, (Tampa, Fl, USA) for Logistics support.
Volunteers from CardioStart's Global Volunteer 2015 Team for their organizational assistance before the mission, their hand carried medical equipment donations, and for Outreach/orphanage assistance donations.
 Aubyn Marath MBBS MS FRCSEd – Mission Director