As we begin a new year, it's a time to reflect on how the past year has shaped us in our missions. Thanks to the help of our volunteers, throughout 2016 we accomplished 7 missions and over 60 successful surgeries! This year took us back to the Dominican Republic, Nepal, and Ghana to strengthen the programs that we helped to start, as well as to new locations in Brazil and Honduras to start new pediatric heart surgery programs.
Though we celebrate entering our 30th year with over 75 medical missions, we mourn the loss of several dear friends and true supporters of our work.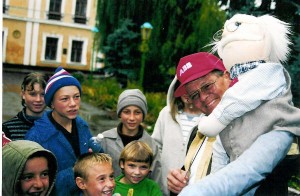 Dan Schorr, who sadly passed recently, this year, has been involved with CardioStart since 1997. As site manager at the Oldsmar electrical generating plant, Florida, he allowed CardioStart volunteers to work there at weekends in the spare warehouse facilities and ship over 10 containers from that location to several countries CardioStart teams were assisting. Dan would regularly maintain the forklift truck to help with loading. His curiosity of our work led to him joining the mission to Ukraine where he led the Outreach team in re-wiring the entire orphanage.
2016 also saw the loss of Gordon Bowden, a retired US Colonel in Air Force Intelligence received great admiration for his mentorship, friendship and wise counsel during his time with CardioStart International.  He died from Stage IV esophageal cancer in November, 2016. Gordon often proof-read and corrected several documents for protocol developments and for scientific publications applying his career-honed skills both therein and, for his role as a Board Member of the charity, CardioStart ReSale Thrift.  Located in Sisters, OR, and under his guidance as Treasurer, the Board has regularly supported the main charity, CardioStart International with financial donations exceeding $20,000.   He is survived by his wife, Dorae and children and always, in our own memories.
We thank you both for your services, and the support you provided will never be forgotten.